Helm Audio Launches $350 Planar Headphones in U.S.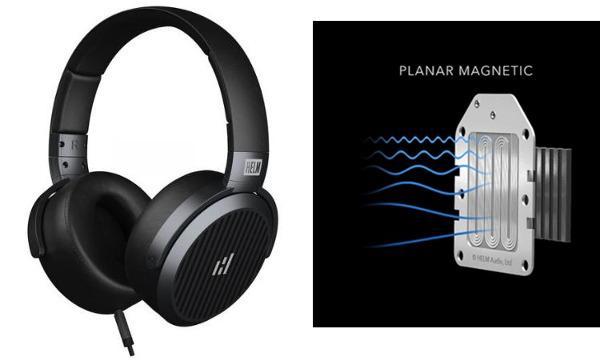 Hong Kong-based Helm Audio is making its debut in North America with three products, including "audiophile-grade" over-ear planar-magnetic headphones that sell for $350.
The Helm Studio Planar Headphones are made of high-grade aluminum and built around 2.6-inch rectangular planar-magnetic drivers with neodymium magnets and silver coiling, chosen for its high conductivity. Hailing the rectangular driver as an industry first, Helm said it flexes more evenly than a round driver "minimizing distortion and delayed resonance while increasing accuracy and phase coherence."
The headphones are described as lightweight yet extremely durable with an adjustable foam-padded headband and padded ear cups that attach magnetically for easy replacement. The ear cups rotate and fold for improved fit and compact storage.
Helm also introduced the water-resistant Helm True Wireless In-Ear Headphones ($100) featuring a scratch-roof body, portable charging case, and rated wireless range of 80 feet, made possible by a patent-pending Helix Antenna, according to the company. Features include one-touch pairing, a rated play time of 3-3.5 hours on a full charge, and a built-in microphone for making calls and interacting with voice assistants. Charging time is 1.5 hours and play time can be extended to 15 hours with the charging case. The earbuds are available in black or white.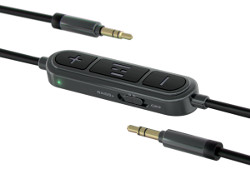 The third product is the first-of-its-kind Helm Boost Cable ($100, available for pre-order), an in-line cable/amplifier designed to improve the sound quality of mobile devices and reduce listener fatigue. The heart of the cable is a THX Achromatic Audio Amplifier (AAA) that uses patented feed-forward error correction to reduce distortion by up to 40 dB and increase maximum output for greater dynamic range and sound pressure level (SPL). The amplifier has a 3.5mm miniplug at each end, is powered by a rechargeable 3.6-volt battery, and includes a bass-boost control.
"Our goal is to become known for our superior sound, innovative designs, at unprecedented value," said Helm Audio CEO Eric Johnson, a 20-year consumer electronics industry veteran.
Helm Audio co-founder Bryn Griffiths, who describes himself as a serial entrepreneur with a passion for developing technology and companies with an edge, said streamlined manufacturing enables Helm to deliver a "level of sound and value that no other brand can."
For more information, visit helmaudio.com.