HDR TV Poised for Steady Growth Through 2021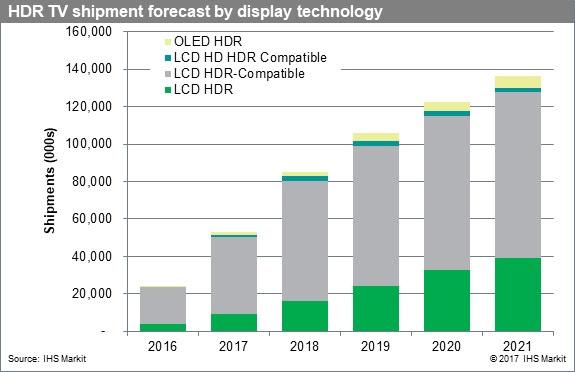 TVs with high dynamic range (HDR) capability are poised for steady growth over the next few years, according to a new report from London-based IHS Markit.
The forecast shows HDR TV shipments growing from 12.2 million in 2017 to 48 million in 2021.
"HDR is the biggest improvement coming to TV viewing," said Paul Gray, associate director for consumer devices at IHS. "It has been conclusively demonstrated to have the biggest impact with viewers, and what's more, the effect works regardless of screen size or resolution."
Despite these advantages, IHS estimates that only 23 percent of the 4K/Ultra HD (UHD) televisions that ship in 2017 will offer the full HDR experience. The remainder will be "HDR-ready," meaning they are able to decode a signal but lack the high contrast capability to display HDR content to an advantage, Gray said. The cost of backlights for liquid-crystal displays (LCDs) remains the biggest obstacle to HDR, he said, noting that IHS expects 88.6 million HDR-ready sets to ship in 2021.
Breaking down HDR by region, the report forecasts that North America will lead the way with 14.6 million HDR sets shipping in 2021, followed by China with 11.8 million.
"North America remains the sweet spot for TVs, with a preference for large screens, the availability of rich UHD content, and a willingness from consumers to buy full-featured sets," Gray said. "While Chinese consumers are buying the biggest TV sets these days, price sensitivity is higher and UHD content is scarcer."
The report also looks at HDR usage for broadcast TV and found that in locations where the airwaves are congested, broadcasters have no spare space to transmit the extra data required for 4K UHD even though "HDR provides a huge increase in perceived quality for a very low data overhead."