Harry Potter and the Deathly Hallows Part 2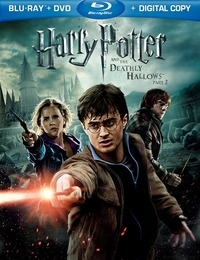 Things come full circle for Harry Potter in the thrilling conclusion of the popular franchise. At the end of
Part 1
, Harry, Ron, and Hermione escape from the clutches of the Death Eaters, but their loyal friend Dobby the former house elf perishes. The trio has little time to mourn as they continue to hunt down and destroy the horcruxes that hide tiny pieces of the evil Lord Voldemort's soul. Their quest takes them to Gringots Bank and into the vault of Bellatrix Lestrange and eventually back to Hogwarts, where Harry confronts the new headmaster, Professor Snape.
While Part 1 was a slow build toward a cliffhanger ending, Part 2 is a pure adrenaline action film from the first moments that Voldemort steals the Elder Wand from Dumbledore's casket. As a huge fan of the books and the movies, I was more than happy to see Warner split the final book into two films—something that should have been done with every movie starting with The Goblet of Fire. Even with the extended time given to the story, there are quite of few characters who don't receive as much screen time as they deserve.
As dark as Part 1 was, it's a sunny day compared to Part 2 and will test the ability of your display to render deep blacks and revealing shadows. The color palette is generally drained of any life, but there are occasions where it jumps to life with a vault full of gold, colorful trips into the past, and engulfing flames in the Room of Requirement. Detail is generally good in close-ups and mid-range shots, but longer sweeping camera pans are a tad soft by comparison. The DTS-HD 5.1 soundtrack is outstanding and features an enveloping surround track, impressive imaging across the front soundstage, and foundation-shaking bass.
Highlighting the bonus features is an outstanding Maximum Movie Mode hosted by Matthew Lewis (Neville Longbottom) and other members of the cast and crew. The Picture-in-Picture track includes plenty of behind-the-scenes footage, interviews, and integrated deleted scenes. Additional supplements contain eight Focus Points, a bittersweet farewell from the cast and crew, an entertaining conversation with J.K. Rowling and Daniel Radcliffe, a featurette on the women and goblins of Harry Potter, a quick studio tour of London, and an introduction to Rowling's new website, Pottermore.com.
If you have the time, it's best to view to two parts of The Deathly Hallows back to back in order to fully appreciate the fitting end to the story of the boy who lived.
Ratings
Picture:4.5/5
3D-Ness: N/A
Sound: 5/5
Extras: 4.5/5
Interactivity: 3/5

Disc Specs
Studio: Warner (2011)
Aspect Ratio: 2.40:1
Audio Format: DTS-HD MA 5.1
Length: 130 Min
MPAA Rating: PG-13
Director: David Yates
Starring: Daniel Radcliffe, Rupert Grint, Emma Watson, Ralph Fiennes

LATEST VIDEO