Harry Potter and The Deathly Hallows: Part 1 (Blu-ray)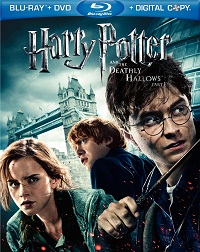 The wizarding world has become a dangerous place. The long-feared war has begun and the Dark Lord has seized control of the ministry of Magic and Hogwarts, terrorizing and arresting all who might oppose him. Harry, Ron, and Hermoine are on the run in search of the magical Horcruxes and must discover a way to destroy them in order to defeat Voldemort once and for all.
Having two kids who are part of the Harry Potter generation, I've had the pleasure of reading each of the books and watching every movie with them. I love how Warner finally decided to split the final book into two parts (something they should have done starting with Goblet of Fire), and we finally get to see more of J.K. Rowling's outstanding story grace the silver screen. Be advised, the story is quite dark and may be disturbing for younger audiences.
Video Highlights

AVC/1080p encode on a BD-50 disc
Very dark cinematography
Consistent black level & contrast
Accurate color palette
Occasional noise
Audio Highlights

DTS-HD MA 5.1 soundtrack
Reference-quality dynamics
Enveloping track
Impressive imaging
Pounding bass
Like the screenplay, the cinematography is very dark and brooding, but the AVC encode handles it with ease. Other than a couple of low-light scenes that exhibit some minor noise artifacts, the video presentation is near reference-quality. As for the audio track, I have zero complaints; it's outstanding!
Bonus Materials

Maximum Movie Mode PIP
Focus Point Featurettes
Behind the Story Featurettes
Additional Scenes
Exclusive Deathly Hallows Part 2 Sneak Peek (removed from my screener copy)
The Wizarding World of Harry Potter Grand Opening
BD-Live Enabled
Bonus DVD and Digital Copy
While not my favorite film (or book) of the series, I found myself thoroughly entertained by Part 1. The kids have grown into their roles and have become pretty darn good actors, especially Rupert Grint. The presentation is outstanding and is definitely a must-have for Potter fans.
Release Date: April 15, 2011
Studio: Warner
Movie: 6/10
Picture: 9/10
Sound: 10/10

Review System
Source
Oppo BDP-93 Blu-ray player

Display
JVC DLA-RS40 projector
Stewart FireHawk screen (76.5" wide, 16:9)
Electronics
Integra DTC-80.2 pre/pro
Anthem PVA-7 power amplifier
Belkin PVA-PF60 power conditioner
Speakers
M&K S-150s (L, C, R)
M&K SS-150s (LS, RS, SBL, SBR)
SVS PC-Ultra subwoofer
Cables
Monoprice HDMI cables (source to pre/pro)
Best Deal analog-audio cables
PureLink HDC Fiber Optic HDMI Cable System (15 meters) from pre/pro to projector

Acoustical treatments from GIK Acoustics