Harmony Elite and Pro 2400 Remote Control Systems Review Page 2
Same as with the Elite hub, I set up the Pro 2400 using the Harmony app on my iPhone, with some minor touchups done directly on the remote itself. For my configuration I added the following components: JVC projector, Lumagen video processor, Monoprice surround processor, Apple TV 4K, Xbox One Elite, Nvidia Shield TV Pro, Kaleidescape Strato media player, Lutron lighting, and a Stewart Filmscreen variable masking screen. That's a long list of components to set up from scratch, and it involved some complex operations for some of them.
Using the app, you simply enter the component by name and it matches to an entry in Harmony's database. The only component I couldn't match instantly was the Stewart Filmscreen Variable Masking system, but once I alerted Harmony tech support, it was added to the database within a day. The app asks relevant questions like what will be used to control volume levels in the system and then maps the appropriate buttons across all activities. Using the remote, you can choose to control an activity, with the buttons matched appropriately, or you can choose to control a specific device, with proper button- matching for that component. And switching between activity and device control literally requires only a single button press.
During setup, the Harmony app walked me through the process of enabling Bluetooth control of both my Apple TV 4K and Nvidia Shield TV Pro (including setup instructions to navigate menus of both devices). The rest of the controls in my setup were done via IR. Harmony's system is fully compatible with IP and Bluetooth integration of products including automated lighting and shades, and smart devices from SmartThings, August, ecobee and Insteon. It also supports Alexa and Google Assistant, though I haven't yet set up voice control in my system as I still find I prefer a physical remote to voice control. (Maybe I'm just old- fashioned that way.)
One thing I like most about Harmony's offerings is having the ability to fully customize the remote control. Obviously, a custom installer will configure the remote for the end-user with the Pro 2400, but I found myself able to fine-tune operation for my specific setup and needs using either system. And that included esoteric functions like assigning the remote's quartet of color buttons to control the most common aspect ratios on my Stewart Filmscreen variable masking frame. If I didn't like a default button layout, I could easily change it to whatever I wanted for any device in my system. With secondary hubs installed in different rooms, I would also have the option to control multiple zones in my home. And since Harmony hubs are network-connected, I could fully control everything from anywhere with my iPhone, which made it easy to remotely power on and warm up my theater when I was on my way home.
Performance
Once I had everything set up to my liking, using the Pro 2400 was largely the same fantastic experience I've had with the Elite for years now. Since you are the one who customizes the remote, using the system quickly becomes extremely intuitive. And because it literally takes only minutes to make changes via the app, anything that doesn't feel intuitive can be easily adapted.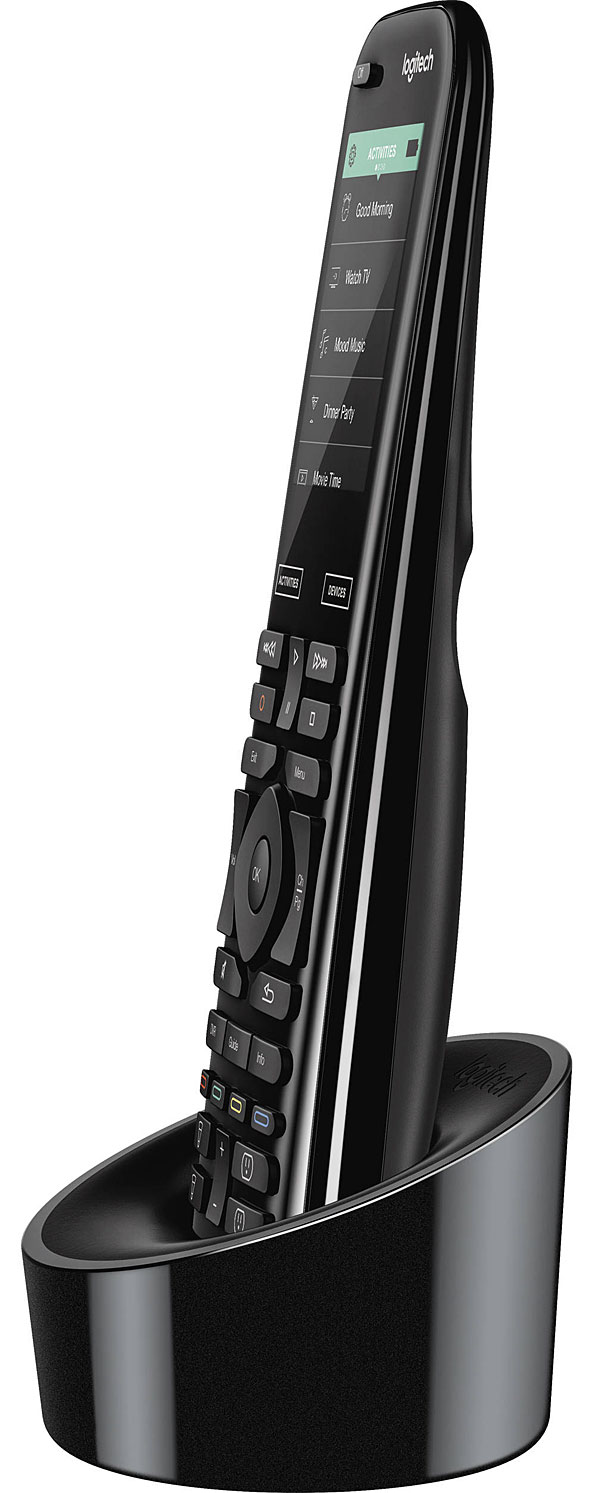 I didn't experience a single hiccup with the operation of my equipment during my time with the Harmony remotes. Macros worked without a hitch, even with multiple components carrying out complex tasks, and I found I could even program scripts to launch specific apps from my streaming boxes without having to manually navigate menus! All icons used for devices and macros were beautifully rendered in full color on both the remote's touchscreen and the Harmony app. And because the Harmony system integrates with a wide range of smart devices like lights, thermostats, security cams, and more, I know I will be covered as I start to move into that world.
Conclusion
Home Theaters and media rooms are meant as a way to unwind and enjoy movies, TV, and music free from stress. Having to struggle with operating a system, either via a stack of individual remote controls or a custom system that requires a service call for something as simple as adding a new component seems like the opposite of that. Harmony's solutions make things simple by allowing for a fully customized experience that anyone comfortable with using an app on their phone could have up in running in a short amount of time.
The Elite model offers full control for end users with easy setup and endless customization options. And if you want custom installation support, the Pro 2400 delivers that with full remote access so your system integrator can make any changes remotely. I've suggested the Harmony Elite to every client who has asked me about remote control systems, and the company's new Pro 2400 model is yet another fantastic solution that I highly recommend.