A Hard Day's Night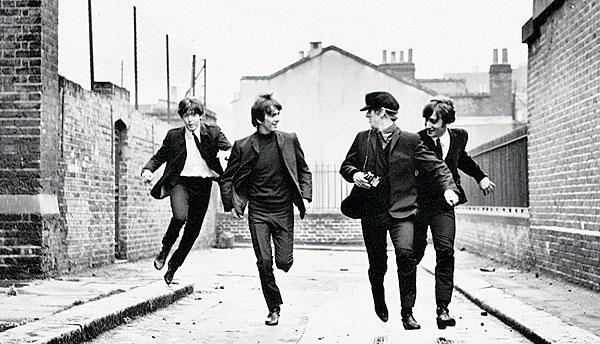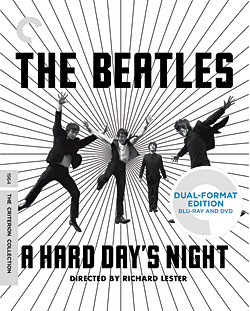 The Criterion transfer, struck from a Lester-approved 4K restoration of the original 35mm negative, looks terrific: crisp detail, clear contrasts, palpable textures. Some scenes are a bit washed out or faded, but much of this was filmed on the fly and, hey, it's 50 years old. Still, I'm sure it hasn't looked any better since I saw it so long ago. The sound is better still: the mono soundtrack diligently restored, then remastered in stereo and 5.1 surround by Giles Martin (George's son) and Sam Okell at Abbey Road Studios. I have an aesthetic preference for the mono, but the 5.1 is about as stunning as I've heard pop music in simulated surround.
The extras are right up there with Criterion's finest: three making-of featurettes, an audio commentary track composed of other archive material, some illuminating context from biographer Mark Lewisohn, a shrewd analysis of the film's editing, some early (and very weird) Lester shorts, and an 80-page booklet with photos, an informed essay, and a lengthy 1970 interview with Lester.
This is a no-brainer: Buy it.
Blu-Ray
Studio: Criterion Collection, 1964
Aspect Ratio: 1.75:1, black & white
Audio Format: Uncompressed mono, stereo, DTS-HD Master Audio 5.1
Length: 87 mins.
MPAA Rating: Unrated
Director: Richard Lester
Starring: The Beatles, Wilfrid Brambell, Norman Rossington
I saw A Hard Day's Night in a theater in 1964, when it first came out and I was 10 years old. I saw it three times, and it was pure joy. I felt the same sensation watching this fantastic Blu-ray transfer. Was it at least in part nostalgia? Probably, though it's worth noting that the movie—which came out in August, six months after The Beatles' appearances on The Ed Sullivan Show—is what won over our parents to the Fab Four: so smart, witty, and talented after all (traits that we kids had long appreciated). And my own kids, born two decades later, love the movie and the group too. This was something of a miracle movie. Joining The Beatles to director Richard Lester and screenwriter Alun Owen, both known for their absurdist work with Peter Sellers and the Gong Show gang, was a brilliant move, their mod-rocker-mocker sensibilities a total match. In the musical scenes (especially the "Can't Buy Me Love" sequence on the football field), Lester invented the modern music video (in a good way). The whole movie exudes an antic freshness: such zip and youth and amiable rebelliousness and—back to that first word—joy.