Happy Gilmore (Blu-ray)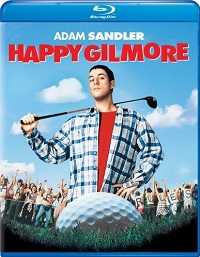 When a failed hockey player (Adam Sandler) discovers he can hit a golf ball 400 yards, he must check his pride at the door and play the "sissy" sport in order to save his grandmother's home from the IRS. With the help of a retired golfer (Carl Weathers) and a new love interest (Julie Bowen), he must adapt to life on tour in order to win enough prize money to save the day.
I wouldn't call myself a huge fan of Sandler, but I have to admit his juvenile humor makes me laugh. His star was brightest in the 1990s and this is probably his biggest hit. The pacing is excellent at 92 minutes and there's enough of a story to keep it interesting.
Video Highlights

VC-1/1080p encode on a BD-50 disc
Bright color palette
Deep blacks
Solid detail
Minor edge enhancement in a couple of scenes
Audio Highlights

DTS-HD MA 5.1 soundtrack
Pedestrian sound design
Front-heavy track
Intelligible dialog
For a catalog title from the 1990s, the video encode looks pretty darn impressive with bright colors, inky blacks, and solid detail. The audio track doesn't bring much to the table, but given the genre, I wasn't expecting to be blown away.
Bonus Materials

If you're a golf fanatic, then this must become a part of your movie collection. It's no Caddyshack but it certainly has enough funny moments to keep it interesting. Recommended for fans.
Release Date: June 7, 2011
Studio: Universal
Movie: 7/10
Picture: 8/10
Sound: 7/10

Review System
Source
Oppo BDP-93 Blu-ray player

Display
JVC DLA-RS40 projector
Stewart FireHawk screen (76.5" wide, 16:9)
Electronics
Integra DTC-80.2 pre/pro
Anthem PVA-7 power amplifier
Belkin PVA-PF60 power conditioner
Speakers
M&K S-150s (L, C, R)
M&K SS-150s (LS, RS, SBL, SBR)
SVS PC-Ultra subwoofer
Cables
Monoprice HDMI cables (source to pre/pro)
Best Deal analog-audio cables
PureLink HDC Fiber Optic HDMI Cable System (15 meters) from pre/pro to projector

Acoustical treatments from GIK Acoustics
LATEST VIDEO