Hall Pass (Blu-ray)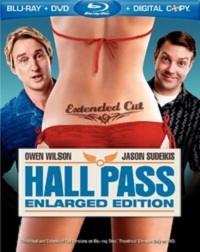 Rick (Owen Wilson) and Fred (Jason Sudeikis) have both been married for a long time and even though they love their wives, they just can't help checking out every hot woman in their view. Fed up with their rubber-necking, their wives take a different approach to revitalize their marriages by giving them a "hall pass": one week of freedom to do whatever they want with no questions asked. Be careful what you wish for guys.
While I was never a huge fan of Something About Mary, at least I found its humor to be somewhat amusing and I can see why it was a hit. Unfortunately, Farrelly brother's formula hasn't worked as well since then. I thought the premise had potential but unfortunately it's another stinker filled with sophomoric humor by middle-aged men who think they're still in high school.
Video Highlights

AVC/1080p encode on a BD-25 disc
Heightened contrast
Overblown colors
Inconsistent detail
Solid blacks
Audio Highlights

DTS-HD MA 5.1 soundtrack
Dialog-heavy track
Front-loaded presentation
Occasional ambience
While not as disappointing as the movie, the video encode isn't one of the better looking titles I've seen for a day and date release. Maybe it was the way it was shot but I found the contrast to be much higher than it should and the color pallet a tad bloated. The audio track is serviceable for the genre.
Bonus Materials

Extended Cut
Deleted Scene
Gag Reel
BD-Live Enabled
I've certainly have seen worse comedies over the years, but this one would garner an honorable mention in the top 10 stinkers category. Maybe it would be funnier after a few beers with the guys, but I felt uncomfortable watching it with my wife.
Release Date: June 14, 2011
Studio: Warner
Movie: 4/10
Picture: 6/10
Sound: 7/10

Review System
Source
Oppo BDP-93 Blu-ray player

Display
JVC DLA-RS1 projector
Stewart FireHawk screen (76.5" wide, 16:9)
Electronics
Integra DTC-80.2 pre/pro
Anthem PVA-7 power amplifier
Belkin PVA-PF60 power conditioner
Speakers
M&K S-150s (L, C, R)
M&K SS-150s (LS, RS, SBL, SBR)
SVS PC-Ultra subwoofer
Cables
Monoprice HDMI cables (source to pre/pro)
Best Deal analog-audio cables
PureLink HDC Fiber Optic HDMI Cable System (15 meters) from pre/pro to projector

Acoustical treatments from GIK Acoustics
LATEST VIDEO