The Great Beauty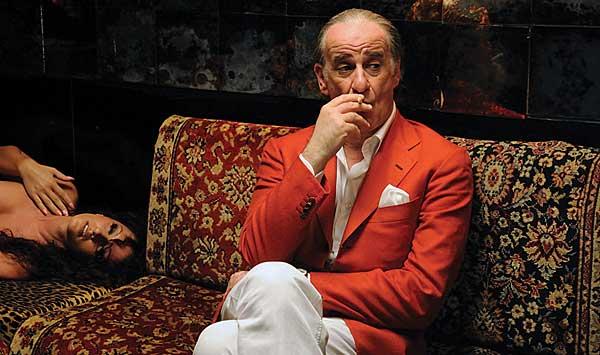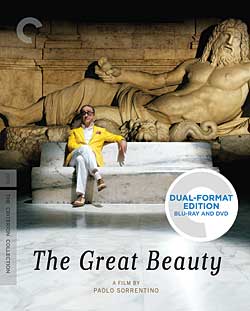 The film is a celebration and critique of Rome—its shallow decadents and its breathtaking catacombs that house the city's secret roots. There are more memorable, outsize characters than anything since early Fellini (La Dolce Vita is a clear influence), though Paolo Sorrentino, the co-writer and director, imbues them with more warmth. He keeps the camera moving, wandering the eternal city, like (and with) Jep, catching every detail, peering for the meaning beneath the lushness. It's a gorgeous-looking film.
If I hadn't seen the film twice in a theater, I might have ranked Criterion Collection's Blu-ray Disc a bit higher for picture quality, but there's something amiss: It's too dark. Don't get me wrong: In the movie's many dark scenes, the details are very clear; there's no mistaking objects for shadows; but in scenes of light and dark, the contrasts are too stark. Even the bright scenes aren't as luminous as I recall. Peter Becker of Criterion says that he and his crew noticed this as well, but he insists that, in a close comparison, they saw no difference between their transfer—a Sorrentino-approved 2K scan from the 35mm negative—and the 2K DCP projected in many theaters (including the one where I saw it). So who knows? Would a 4K master be better? Anyway, what we have is a beauty; I only wish it were more so.
The sound is superb, and the music soundtrack (a mix of Euro-pop and hymnal contemporary classical pieces by Gorecki, Part, and Martynov, among others) is magical. The extra features include unusually intelligent conversations with Sorrentino, Servillo, and others, but I'd hoped for more deleted scenes and some talk about the music. Still, this is a masterpiece, and despite the disc's shortcomings, it's worth seeing again and again.
Blu-Ray
Studio: Criterion Collection, 2013
Aspect Ratio: 2.35:1
Audio Format: DTS-HD Master Audio 5.1
Length: 142 mins.
MPAA Rating: Unrated
Director: Paolo Sorrentino
Starring: Toni Servillo, Carlo Verdone, Sabrina Ferilli
After watching The Great Beauty in a theater, I wanted to watch it again, not to catch details I'd missed (there weren't many) but to relive the experience. I can't remember a film that so raptly captures the flow of life, the "fleeting and sporadic flashes of beauty" beneath the "blah-blah-blah" of existence, as our protagonist, Jep Gambardella, reflects in his epiphany. Jep (played by the marvelous Toni Servillo) is the king of Rome's high society, the author of a celebrated novel who hasn't written one since because he can't find "the great beauty." But, at the end, he realizes that life is full of great beauty when mediated through art, and so begins his new novel, which, we realize, is the film we've just seen.