The Good Dinosaur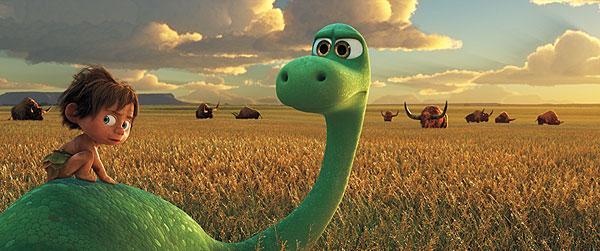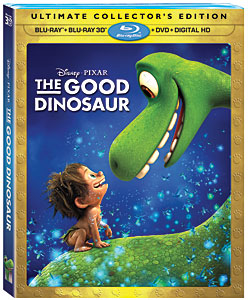 The animation, however, is breathtaking, led by exquisite nature- scapes that could easily be mistaken for magnificent live-action photography, as leaves, blades of grass, and far-off mountain ranges are all immaculately rendered. The stereoscopic effect on this Blu-ray 3D has many triumphant moments, too. Rain and snow spray out realistically across the 2.39:1 frame, fireflies and birds dance and swirl in all three dimensions, while the deliberate foreground placement of bushes, trees, a layer of clouds, and even a homemade fence are further accentuated by understated focus pulls.
The DTS-HD Master Audio 7.1 soundtrack is an artfully composed accompaniment to the rich visuals, with smooth echoes wafting through the surrounds as well as swooping pterodactyls and ample discrete cues from beginning to end. Low-end power is evident in a raging river, a clap of thunder, or the roar of an imagined beast. The 360-degree longhorn stampede shook the entire room, recalling a similar scenario from The Lion King.
The sole 3D extra is the colorful Oscar-nominated short, Sanjay's Super Team. It's also on the 2D Blu-ray, alongside a handful of short featurettes. There are three crudely realized deleted scenes with introductions, plus an audio commentary by the director and others. A DVD is the third and final disc in this bundle, and the Disney Movies Anywhere Digital Copy is now viewable on no fewer than five different platforms.
Blu-Ray 3D
Studio: Disney, 2015
Aspect Ratio: 2.39:1
Audio Format: DTS-HD Master Audio 7.1
Length: 94 mins.
MPAA Rating: PG
Director: Peter Sohn
Starring: Raymond Ochoa, Jeffrey Wright, Frances McDormand
Ever wonder what would happen if the meteorite that killed the dinosaurs missed Earth instead, enabling our prehistoric pals to evolve into the dominant animals on the planet, rather than man? Regardless of your answer, here's The Good Dinosaur, a rare misfire from the esteemed Pixar gang. While we on the sofa are still wrestling with the ramifications of this bizarre setup, we're introduced to a family of dino farmers: no, seriously, a pack of apatosauruses that harvests corn and plows the field with their blunt heads. But then a violent storm separates young Arlo from his brood, stranding him in the wilderness, and suddenly the basic premise is rendered utterly immaterial. Arlo has some growing up to do, and his grudging role of protector for a feral human child might just provide the life lessons he needs. Yes, similarities to a rival studio's Ice Age are undeniable, as are the banalities from many another family film past.