GoldenEar Launches Less Expensive Follow-Up to its Flagship Triton Reference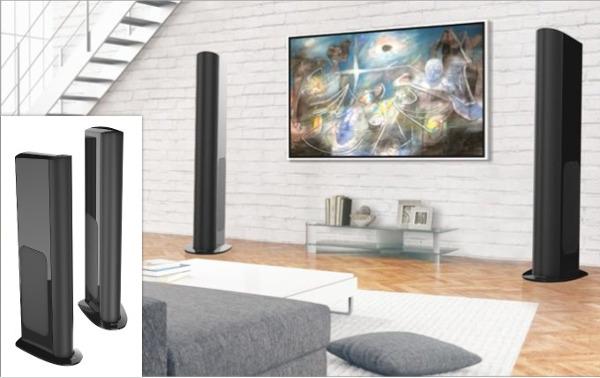 GoldenEar Technology has introduced a slightly scaled-down, less expensive follow-up to its flagship Triton Reference speaker, one of
Sound & Vision
's
2017 Top Picks of the Year
.
The new Triton One.R is designed to bring the technology, cosmetics, and performance of the Triton Reference into a more compact speaker that at $2,999 each costs 30% less than the flagship. Standing 54-inches tall, the One.R's sleek piano-black enclosure could easily be mistaken for the Triton Reference. It's only 4 inches shorter and users the same driver configuration but with slightly smaller drivers: Three 5 x 9-inch active woofers coupled to four 7 x 10-inch passive radiators (two per side) plus two 5.25-inch mid/bass drivers and the same High-Velocity Folded Ribbon (HVFR) tweeter. By comparison, the Triton Reference has three 6 x 10-inch active woofers, four 9.5 x 10.5-inch passive radiators, and two 6-inch mid/bass drivers.
The One.R's built-in subwoofer amplifier is rated to deliver 1,600 watts — instead of 1,800 watts — and uses the same 56-bit digital signal processor, which is designed to flatten and extend the low frequency response as well as optimize blending the bass section with the rest of the system.
GoldenEar said the woofers and mid/bass drivers are new, improved designs. The active woofers, for example, have polymer-impregnated nomex cones designed to minimize cone breakup when driven hard. The mid/bass drivers use a special formulation of polypropylene said to combine "superior internal damping with high speed of transmission through the cone."
"Voicing has been painstakingly worked on to mirror that of the Triton Reference," according to the company, with careful attention paid to critical measurements made in an anechoic chamber and "long listening and voicing sessions…with all kinds of music."
The Triton One.R's "monocoque cabinet" is critically braced and constructed of multi-density medite, engineered with the goal of making it as non-resonant and inert as possible. As with the Triton Reference, the baffle is "as narrow as possible" to minimize diffraction issues and the sides of the cabinet are not parallel, in an effort to minimize internal reflections. The mid/bass drivers are also housed in a separate internal enclosure.
Whereas the Triton Reference is rated down to 12 Hz and has a rated sensitivity of 93.25 dB, the One.R comes within striking distance on both counts with a rated low-frequency limit of 13 Hz and sensitivity of 92 dB.
For more information, visit goldenear.com.