Giveaway: Geneva Model S Sound System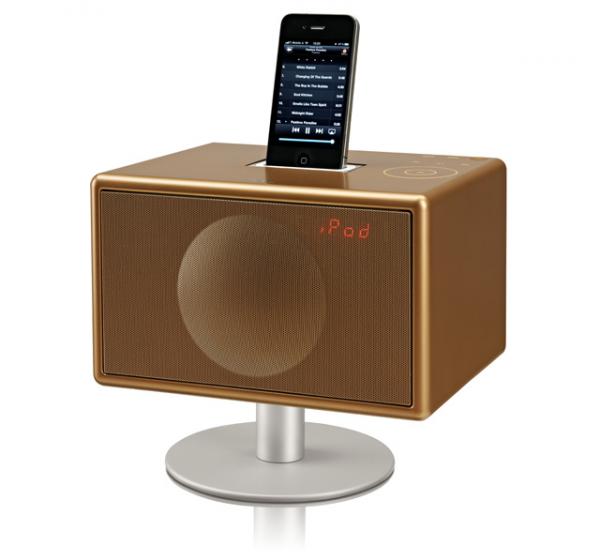 Well, Black Friday and Cyber Monday have passed, and the giving season is almost upon us. And we've got a nice gift for you to give (or, of course, keep for yourself) - a Model S tabletop sound system/iOS dock from our friends at Geneva Labs
The Model S offers up Geneva's usual mix of iOS docking and FM radio; and packages it with two 3-inch drivers powered by a pair of 15-watt Class D amps. You also get an LED display to keep you informed, an alarm clock, a mini remote, and a nifty little brushed aluminum stand so you still have room to toss your keys, wallet, and whatever else on your desk or nightstand. And since it's the holidays, we're offering up our unit in the swank and seasonal gold/bronze finish. You'll love it.
As usual, all we ask of you to qualify to win is to leave us a comment. Today's topic for discussion: if you're an iPhone/iPod/iPad user, are you upgrading to a device using the new Lightning connector this year? Or does the switch just make you want to look out for deals on 30-pin compatible gear like the Model S. Or are you just annoyed by the whole affair. Let us know what you think.
One winner will be chosen randomly from among those who leave on-topic comments. The winner will receive a Geneva Model S system, valued at $299.95, in the gold/bronze finish. Remember, please feel free to say what you like, so long as it's on topic. You will have to register as a user of our site - no anonymous commenters, we need a valid e-mail contact address to inform you of your win. For shipping reasons, we can only accept entrants with shipping addresses in the contiguous 48 US states (apologies, international readers and intrepid residents of Alaska and Hawaii). We'll take entries until midnight (Eastern Time), on Wednesday, December 5, and notify the winner via e-mail by Friday, December 7th.
Good luck!