The Girl on the Train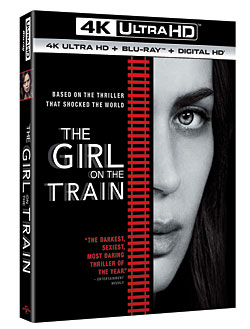 Rachel awakens bruised and bloodied, and soon Megan is reported missing. The police investigating the disappearance have no fondness for Rachel, and even when flickers of memory of the fateful night begin to return, her proclivities and reputation preclude her as a credible witness. But being in the midst of this mystery brings newfound purpose, and she seeks the truth on her own. Adapted from Paula Hawkins' bestselling book, the movie utilizes a clever flashback structure—including flashbacks within flashbacks—that brings us ever closer to the present, revealing more and darker secrets along the way. The story does take a rather long time to get going, in part because of all of the expository talk, with no indication of the twists it will take.
This is a dark world of deception and outright lies, and so the characters are often backlit, casting their faces in heavy shadow. The movie seems to revel in this type of shot, frankly, but fortunately this 4K presentation with HDR displays outstanding nuance, as these wordless countenances speak volumes, moving the plot forward in subtle ways. There is a naturalistic quality to the cinematography, with an autumnal restraint to the color and modest film grain. The generous details can be pretty, or not; for example, you can readily appreciate the varying degrees of ruddiness on Rachel's features depending upon how much she's had to drink. The tremendous clarity of the 4K image also imparts a noticeable, enticing sense of depth.
Sonically, the musical score carries the early scenes to a great extent. The soundtrack is in DTS:X (the DTS-HD Master Audio 7.1 core is reviewed here), exhibiting clear dialogue and some strong multichannel activity, as when voices bounce around speakers while Rachel is zoning out. Other times, the audio phases seamlessly and credibly across the soundfield. The fairly common effect of shrieking train wheels is utilized to create drama in one scene, but by and large this is not a particularly flashy track.
The sole bonus feature on the 4K disc is an audio commentary by director Tate Taylor. This can also be found on the included Blu-ray, along with a brief look at the three female leads, primarily from the writers' points-of-view, plus a broader making-of vignette. Fourteen deleted/extended scenes have been assembled, some so slight as to suggest that they would have played under additional voiceover narration. A redeemable code for an HD Digital Copy of the movie is also packed inside.
Ultimately, The Girl on the Train plays out much like a thoroughly modern redux of Rear Window, where exploring what you think you saw can turn out to be murder.
Blu-Ray
Studio: Universal, 2016
Aspect Ratio: 1.85:1
Audio Format: DTS:X / DTS-HD Master Audio 7.1 core
Length: 112 mins.
MPAA Rating: R
Director: Tate Taylor
Starring: Emily Blunt, Rebecca Ferguson, Haley Bennett
Rachel (Emily Blunt) is a lost soul who eases the lingering pain of her divorce with ample doses of alcohol, particularly on her daily rail trips to and from Manhattan. Her only diversion is an elaborate fantasy about someone she sees from her moving window, Megan (Haley Bennett), and projecting all of her longing onto this stranger. And then one day Rachel spies Megan doing something she ought not to, threatening the idyllic life the voyeur has imagined for her. She even goes so far as to attempt a confrontation with Megan, but it quickly becomes a boozy blur of violence.