Get Smart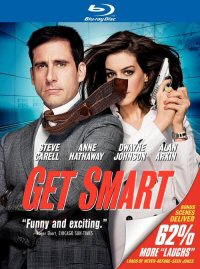 When the headquarters of CONTROL are attacked and the identities of its agents compromised, the Chief (Alan Arkin) has no choice but to promote his best analyst, Maxwell Smart (Steve Carell), who has always wanted to work in the field. Partnered with veteran Agent 99 (Anne Hathaway), he must rely on a few spy-tech gadgets and his enthusiasm for his promotion to defeat the evil crime syndicate, KAOS, if he wants to save the day and—better yet—get the girl.
I watched Get Smart on TV as a kid, and I thought it did an excellent job of spoofing the spy genre. This new big-screen version has its moments, and Steve Carell fills the large shoes of Don Adams adequately. Also, I really loved the subtle references to the original series. Anne Hathaway's portrayal of Agent 99 steals the show with some great one-liners and her spectacular beauty, which looks divine in HD.
The 1.85:1 VC-1 encode is generally quite good, with a razor-sharp image in both close-ups and longer shots, especially some breathtaking visuals of Moscow. Colors are vibrant with vivid primaries jumping off the screen. Darker scenes waver from excellent to average, but overall, the 1080p presentation delivers a pleasing HD experience.
Unfortunately, the 640kbps Dolby Digital 5.1 soundtrack falls into the disappointing category. Dialog is sometimes unintelligible with a relatively low level, leading me to turn up the volume. Unfortunately, when the dynamic effects kick in with foundation-shaking bass, I had to quickly turn it down in order to preserve my hearing. The surround channels provide good ambiance and the occasional discrete effect, but the exclusion of a lossless track is a major letdown.
The bonus features take a look behind the scenes with a piece on the casting, some alternate scenes, a gag reel, and other goodies. There's also a DVD game on a separate disc titled "Get Smart: KAOS Control," in which you can advance from the analyst desk to top-secret CONTROL agent through training, testing, and missions. Warner has also included a digital copy for use on portable players.
I enjoyed Get Smart, especially the chemistry between Carell and Hathaway, and the video presentation is solid. However, the exclusion of a lossless audio track on any Blu-ray disc is unacceptable, and this Dolby Digital soundtrack could be improved.
Release Date: November 4, 2008
Movie: 6/10
Picture: 8/10
Sound: 7/10

Review System
Source
Panasonic DMP-BD55

Display
JVC DLA-RS1 projector
Stewart FireHawk screen (76.5" wide, 16:9)
Electronics
Onkyo Pro 85 pre/pro
Anthem PVA-7 Amplifier
Belkin PF60 power conditioner
Speakers
M&K S-150s (L, C, R)
M&K SS-150s (LS, RS, SBL, SBR)
SVS PC-Ultra subwoofer
Cables
Monoprice HDMI cables (source to pre/pro)
Best Deal analog-audio cables
PureLink HDC Fiber Optic HDMI Cable System (15 meters) from pre/pro to projector
LATEST VIDEO