The French Connection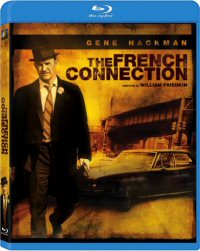 This classic movie is based on the true story of two New York City detectives, Jimmy "Popeye" Doyle (Gene Hackman) and Buddy Russo (Roy Scheider), as they attempt to break up a narcotics-smuggling ring with ties across the globe.
Winner of five Academy Awards including Best Picture, Best Actor (Hackman), Best Director (William Friedkin), Best Screenplay, and Best Editing, it nevertheless lacks the slick presentation and action of modern-day films like The Departed. Hackman's performance as the cop who will bend—or sometimes break—the law in order to get his man is worthy of the Oscar.
The AVC encode looks amazingly good for an early-1970s production, with distinct clarity in close-ups and longer shots. Black levels are inky with refined shadow detail, but the color saturation doesn't pop as much as modern films. Granted, the look captures the mood of the time period with muted colors, dark clothing, and overcast skies.
The DTS-HD MA soundtrack offers the most immersive listening experience compared to the other two available tracks—the original mono mix and the stereo option. The score sounds a bit harsh and tinny, but given the source and age, this is to be expected. Dialog is intelligible and firmly rooted in the center speaker, and the added rear effects offer some discrete sounds, especially during the renowned car chase. Dynamics aren't especially impressive—gunshots sound feeble with little impact.
The two-disc set is loaded with special features, including an introduction and commentary by Friedkin, a separate commentary by Hackman and Scheider, deleted scenes, and seven behind-the-scenes featurettes, the most interesting of which pertaining to the color-timing changes done for the Blu-ray release.
The dramatic elements carry the story, although I didn't care too much for the violence. But given the subject matter, it couldn't be avoided. The video presentation surpasses the audio by a smidgen, but the well-done supplements will surely please movie buffs.
Release Date: February 24, 2009
Studio: Fox Home Entertainment
Movie: 7/10
Picture: 7/10
Sound: 6/10

Review System
Source
Panasonic DMP-BD55

Display
JVC DLA-RS1 projector
Stewart FireHawk screen (76.5" wide, 16:9)
Electronics
Onkyo Pro PR-SC885 pre/pro
Anthem PVA-7 Amplifier
Belkin PF60 power conditioner
Speakers
M&K S-150s (L, C, R)
M&K SS-150s (LS, RS, SBL, SBR)
SVS PC-Ultra subwoofer
Cables
Monoprice HDMI cables (source to pre/pro)
Best Deal analog-audio cables
PureLink HDC Fiber Optic HDMI Cable System (15 meters) from pre/pro to projector

Acoustical treatments from GIK Acoustics
LATEST VIDEO