The Fourth Kind (Blu-ray)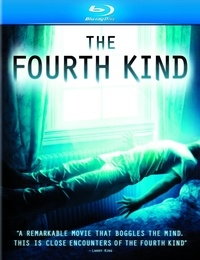 Since the 1960s in Noe, Alaska, a disproportionate number of the population has been reported missing every year. Despite multiple FBI investigations of the region, the truth has never been discovered. Psychologist Dr. Abigail Tyler (Milla Jovovich) while recovering from the murder of her husband begins counseling patients with sleep disorders and discovers similarities between their stories. She begins to hypnotize them while recording the sessions and uncovers some disturbing evidence of alien abduction.
Color me very disappointed. What could have been an interesting true-life story using split-screens between the actual video footage and the actors turns out to be a bore and leaves the viewers more confused than ever. To say the film leaves the audience hanging would be an understatement.
Video Highlights

VC-1/1080p encodes on a BD-50 discs
Strong color saturation
Solid black levels with some occasional crush
Film-like veil of grain
Some dark scenes have a lot of noise and some minor macroblocking
Audio Highlights

DTS-HD MA 5.1 soundtracks
Strong LFE
Active and engaging use of surround speakers
Superb dynamics
The video encode can look very messy at times, but this has more to do with the cinematography than the video encode. The audio is almost worth watching the movie to experience, but I'm not sure I would go that far.
Bonus Materials

Deleted/extended/alternate scenes (SD)
Pocket BLU for iPhone, iPod Touch, and other smartphone devices
D-Box Motion enabled
If you've seen the trailers you've seen the best it has to offer. If you're desperate for a supernatural thriller I would look elsewhere. Not recommended.
Click here to email any comments or questions!
Release Date: March 16, 2010
Studio: Universal
Movies: 4/10
Picture: 7/10
Sound: 9/10

Review System
Source
Oppo BDP-83 Blu-ray player

Display
JVC DLA-RS1 projector
Stewart FireHawk screen (76.5" wide, 16:9)
Electronics
Onkyo Pro PR-SC885 pre/pro
Anthem PVA-7 power amplifier
Panamax M5400PM power conditioner
Speakers
M&K S-150s (L, C, R)
M&K SS-150s (LS, RS, SBL, SBR)
SVS PC-Ultra subwoofer
Cables
Monoprice HDMI cables (source to pre/pro)
Best Deal analog-audio cables
PureLink HDC Fiber Optic HDMI Cable System (15 meters) from pre/pro to projector

Acoustical treatments from GIK Acoustics
LATEST VIDEO