Flashback 2005: S&V Goes Blue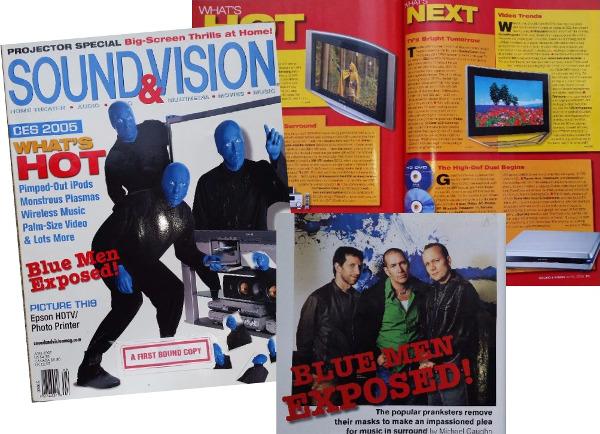 Twelve years ago this month, the founding members of Blue Man Group made an appearance on the April 2005 cover of
Sound & Vision
.
We were well aware of the group's spectacular live performances but knew nothing about their passion for music, and multichannel music, in particular. Their first album, Audio was released on a two-sided DVD featuring a DVD-Audio surround-sound mix on one side.
In the cover story, the group talked about setting up a surround-sound listening station in the Las Vegas Virgin Megastore to showcase for their second album, Complex, and said they found 5.1-channel mixes of their percussion-driven music to be liberating. "When we heard Audio in surround, we said, 'Wow, that's the album fully realized.'"
In our lead feature "CES Showstoppers," we presented highlights of CES 2005, which included the $1,000 Streamium wireless music system from Philips, Yamaha's $1,500 YSP-1 Digital Sound Projector, Denon's 92-pound AVR-5805 AV receiver ($6,000), featuring the ability to power two 5.1-channel systems at once, and LG's 71-inch plasma TV—the largest of its kind in terms of screen size and price ($75,000!).
The story also reported on a new TV technology developed by Toshiba and Canon called SED. "High-def images looked amazingly crisp, bright, and solid on a 36-inch screen with CRT-like levels of shadow detail," wrote Al Griffin. Toshiba announced its intention to deliver a 50-inch SED TV in late 2005/early 2006. The technology never got off the ground.
The other big story of CES 2005 was the looming battle between two "high-definition disc formats"—Blu-ray and HD-DVD—and talk of the first recorders in each format reaching store shelves by the end of the year. We all know the end to this story.