Flashback 1999: New Mag Met (Mostly) with Praise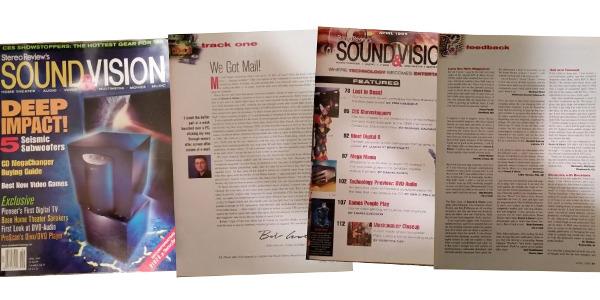 Nineteen years ago this week, the second issue of
Stereo Review's Sound & Vision
hit newsstands. Stunning cover (and content) notwithstanding, the 152-page second act of the magazine that replaced
Stereo Review
(which enjoyed a prosperous 40-year run) and
Video
(which was the videophile's go-to magazine for 21 years) was met with much praise…but not everyone was happy.
In the Track One column that opened the issue, then Editor in Chief Bob Ankosko talked about reader reaction to the new magazine.
Stereo Review and Video had always received a healthy volume of mail, so I had expected the premiere issue of Sound & Vision to generate at least as much as its predecessors. But I wasn't prepared for four to five times as much! Since most of your letters arrived via the Internet, I spent the better part of a week hunched over a PC, clicking my way through screen after screen of e-mail. Then there was the bulging manila folder of USPS-delivered letters. All in all, reading the mail this time around was quite an adventure. To share at least part of it with you, we've expanded our "Feedback" section to accommodate a sample of the letters we received.

I was especially gratified by the words of encouragement from two editors who helped shape Stereo Review back in its earliest days. First came a letter from Hans Fantel, who served as associate editor for the very first issue, February 1958, of what was then known as HiFi & Music Review. Fantel remained a regular contributor until 1971 and went on to cover audio for The New York Times. Then came a laudatory phone call from Furman Hebb, the editor in chief of Hi-Fi/Stereo Review from 1960 to 1965, who went on to serve as a top executive at Ziff-Davis Publishing, which stared Stereo Review. Also among those reacting positively was long-time SR and Video reader Tom Desmond, who echoed the sentiments of many others. "It was a pleasant surprise to find the premiere issue of Sound & Vision in the mail. Now I can get the best of both worlds in one magazine."

The most eloquent letter we receive was the bittersweet farewell from Michael Morrison, an avowed "classical music junkie" and SR subscriber from Day One. Mourning the passing of the "wonderful magazine" he once knew, he thanked us for "decades of delightful reading and insightful information" before concluding, sadly, that "it's time for us to have a big, final hug and go our own separate ways." In fact, most of the negative letters we received came from long-time SR readers who were upset with the brevity of our Music section — and especially the shortage of classical and jazz reviews. Typical comments like these from Kenneth Gross: "Of 180 pages you see fit to devote only four of them to music reviews (one, count 'em, one classical-recording review!)."
Our lineup for the issue reveals a very different time. Among the products reviewed was Pioneer's Pro-700HD TV, a super bulky 64-inch rear projector, which we reviewed with an outboard digital tuner (not uncommon in the early days of HDTV). Suggested retail price was a whopping $8,300. Then there was the Onkyo DV-S717 DVD player, which listed for $900 (hey, at least it supported 96/24 hi-res audio playback), and a 36-inch "digital-ready" CRT (cathode ray tube) TV from Hitachi. It weighed an astounding 164 pounds and carried an equally astounding price tag of $2,999! Don't you miss those old tube TVs?