Flashback 1985: First Million Selling CD Released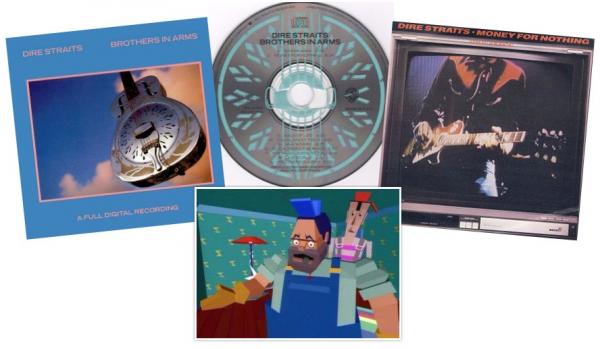 CD was just beginning to catch on when Dire Straits released its fifth studio album
Brothers in Arms
in May 1985. Driven by the iconic (and controversial) hit single
"Money For Nothing,"
the album was the first to sell one million copies in the CD format and the first to outsell its LP counterpart.
The album was also one of the first all-digital "DDD" recordings and one of the first to take advantage of CD's larger capacity. The CD's running time was 55:07, nearly 8 minutes longer than the original LP which was edited down to 47.21 to fit. "Money For Nothing" was shortened by more than a minute but "Why Worry" ensured the brunt of the editing as it was shortened by more than 3 minutes (from 8:31 on the CD to 5:22 on the LP).
On the decision to go digital, co-producer/recording engineer Neil Dorfsman said in a 2006 interview, "One of the things that I totally respected about [band leader/guitarist Mark Knopfler] was his interest in technology as a means of improving his music. He was always willing to spend on high-quality equipment, and I actually remember the night he made the decision to try digital."
Knopfler and crew were so proud with their pioneering accomplishment that the original CD is emblazoned with the statement "A Full Digital Recording." Looking back, one has to wonder whether the perfectionist in Knopfler was ultimately happy with the decision to go all digital, given the questionable quality of many of the early DDD recordings.
Adding to the pioneering aura of Brothers in Arms was the (then groundbreaking) computer-animated video created for "Money For Nothing," which became one of the most played music videos on MTV during its heyday. Who can forget the song's enduring (now nostalgic) "I want my MTV" refrain?
Check out Neil Dorfsman's detailed account of the Brothers in Arms recording sessions in this 2006 Sound On Sound article.