Flashback 1973: Aloha from Hawaii Via Satellite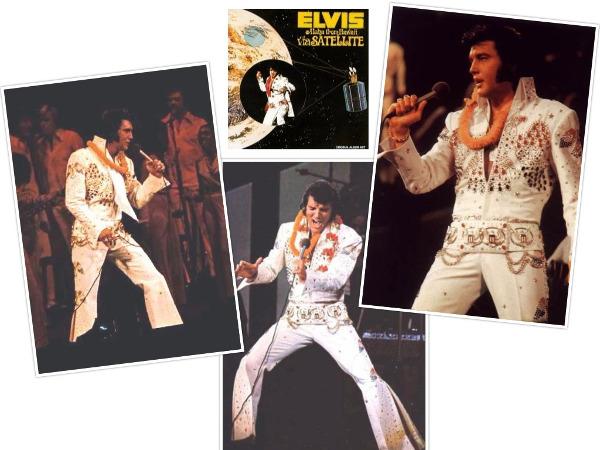 Forty-five years ago this week, the King, donning his iconic white sequin-studded jump suit, made history in Honolulu when more than a billion viewers in 40 countries tuned into
Aloha from Hawaii Via Satellite
, a live broadcast seen by the (at the time) largest audience in the history of television.
The broadcast was also the most expensive TV special of the day, costing a $2.5 million to produce — peanuts by today's production standards — with total earnings of a mere $75,000. A little quick math suggests a ticket price of around 12 bucks ($75,000 divided by 6,000 attendees). All proceeds were donated to the Kui Lee Cancer Fund.
Ironically, viewers in mainland U.S. had to wait almost three months to see the concert because the live broadcast conflicted with Super Bowl VII, which pitted the Miami Dolphins against the Washington Redskins. (The Dolphins won 14–7.) NBC got around to televising a recording of the concert on April 4.
The concert is known for its dramatic use of Strauss's "Also sprach Zarathrusta" as a lead-in to the King's entrance as he kicked off the show with a rousing version of "See See Rider." Elvis performed two dozen songs that night, including "Burning Love," "Blue Suede Shoes," "I Can't Stop Loving You," "Hound Dog," "Suspicious Minds," and A Big Hunk O' Love."
The concert has yet to be released on Blu-ray but Elvis: Aloha from Hawaii (40th Anniversary Edition) is available on DVD.
Fun fact: Elvis' famous jumpsuit is on display at Graceland.