Flashback 1954: Color TV for Sale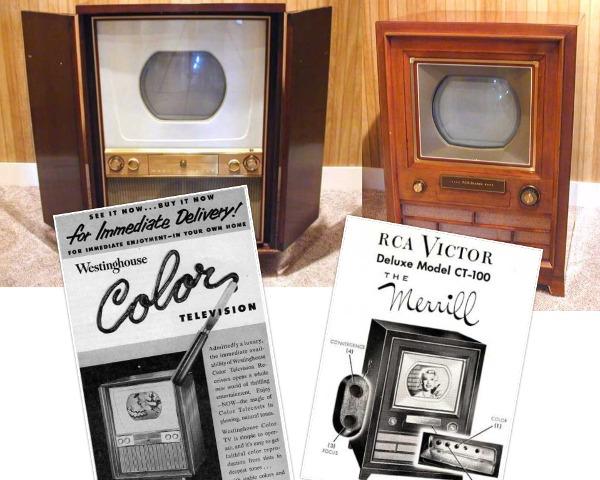 Sixty-three years ago this month the first color TVs were offered for sale to the U.S. public.
The Westinghouse H840CK15 was the first color set to reach stores, followed by the RCA CT-100, which was marketed as "The Merrill." Both TVs had a 15-inch screen and were priced at $1,295 and $1,000, respectively.
Westinghouse ran a full-age ad in The New York Times (excerpted in the photo) and Consumer Reports, which reviewed the Westinghouse set in its April 1954 issue, concluded:
CU is as optimistic as the next man about the future of color television. But on the basis of the evidence at hand, it appears that only an inveterate (and well-heeled) experimenter should let the advertisements seduce him into being "among the very first" to own a color TV set. The state of the art needs refinement. CU will watch developments.
In the press release announcing the CT-100, RCA offered highlights of its launch plans, starting with this bullet point: "To manufacture during 1954 (which is regarded as the "Introductory Year" for color television) about five thousand 15-inch color receivers and about five thousand 19-inch color receivers. These quantities can be increased to meet the public demand as it develops."
To give a little perspective on just how expensive those early sets were, the average annual income in 1954 was in the $3,000 to $4,000 range and you could buy a car for around $2,000. Gas was 20-something cents a gallon and a loaf of bread cost 17 cents.
The NTSC standard on which those early TVs were based would carry television for more than a half century until the ATSC digital standard became the dominant TV transmission format in the mid-to late-2000s. Digital broadcasting kicked off in the U.S. in 1998.
For those old enough to remember getting their first color TV, the memory of Dad setting it up was more than likely of an event that occurred in the mid to late '60s, which is when color broadcasting started to take off, convincing Americans that it was time to move their black-and-white TV into the bedroom to make room for a shiny new color TV.
For more on the early days of television, visit the Early Television Foundation and Museum at EarlyTelevision.org.