Flashback 1893: The Movie Studio Is Born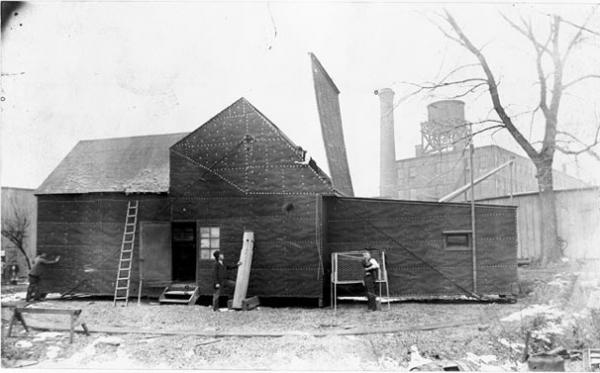 Common wisdom tells us that Hollywood is the birthplace of the motion picture industry but, no, the motion picture studio was born in New Jersey. That's right, home of The Boss and Tony Soprano.
This week in 1893, Thomas A. Edison finished construction of the Black Maria (officially known as the Kinetographic Theater) in West Orange, New Jersey on the grounds of Edison's laboratories, which had moved from his original lab in Menlo Park (where he invented the phonograph) in 1887. The ramshackle looking "studio" was a tar-paper-covered structure with a retractable roof situated on a revolving base that enabled the building to be manually rotated so its open roof could be aligned with the sun (no movie lights in those days, folks).
As This Day in Tech History's Marcel Brown explains, the name Black Maria came from a slang term for police wagons, also known as paddywagons, which were similarly cramped and dark.
The term "motion pictures" goes back to those early days of making film strips for use in a Kinetoscope viewer, which created the illusion of movement by conveying a strip of film with sequential images over a light source with a high-speed shutter. In early May 1893 at the Brooklyn Institute of Arts and Sciences, Edison conducted the world's first public demonstration of films shot in the Black Maria using a Kinetoscope viewer. The exhibited film, known as the Blacksmith Scene, showed three actors (Edison employees) pretending to be blacksmiths. Hey, you have to start somewhere.
The next time you're in New Jersey (or if you live here) a tour of the Thomas Edison National Historic Site is a must. Walking through the laboratory and factory of one of the of the world's greatest inventors is an unforgettable experience. The original Black Maria is long gone but there is a replica of the structure adjacent to the lab.