First Look 3D: Samsung UN46C8000 3D HDTV and BD-C6900 Blu-ray 3D Player
3D Leaps Out
It's been a long road from 1952's Bwana Devil to 2009's Avatar, but 3D in your local cineplex is now a big-time, going concern. But as we discussed in "3D: The Next Big Thing?", HDTV manufacturers are determined to bring the experience home. 3D was the star of the show at January's CES, and 3D-capable sets are beginning to show up at your local big-box retailer. By year's end, you'll see 3D HDTVs from virtually all major manufacturers.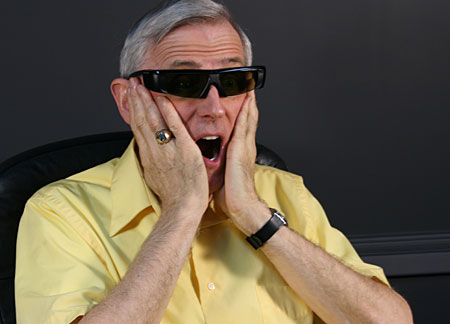 Here's a first look at the $2,800, 46-inch Samsung UN46C8000 LCD (LED edge-lit) 3D HDTV that we just received for review, along with the company's new BD-C6900 Blu-ray 3D player ($400). Until June 5, Samsung will include a free Starter Kit with the combined purchase of any Samsung 3D HDTV with a Samsung Blu-ray 3D player. The Starter Kit, which will retail for $350 when sold separately, includes two sets of 3D glasses and the Monsters vs. Aliens Blu-ray 3D Disc. If you heard a loud "Yikes" in the background, it's not just you. The 3D glasses will be expensive, at least initially. Additional glasses will be $150 per pair. That means Samsung is charging $50 for the disc. According to Samsung, this 3D Monsters vs. Aliens release is exclusive to them and not available in stores. Does that mean there will be one less 3D title available to buyers of other manufacturers' sets this spring, or possibly none? And is this any indication of the MSRP for Blu-ray 3D titles, or merely a reflection of the exclusive nature of this particular package? If glasses are $150 per pair, and Blu-ray 3D titles list for $50 each, that could put a very big damper on 3D sales. But I digress.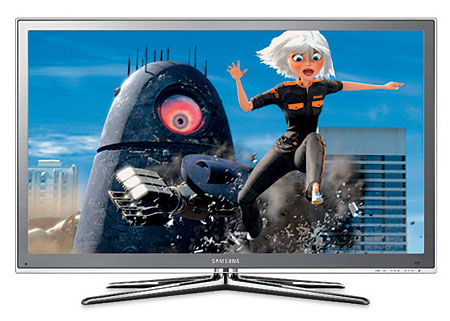 The UN46C8000 isn't Samsung's first 3D-capable LED set to hit the stores. That would be the 7000 series. The main difference between these two lines is that the sets in the 8000 series use a more sophisticated LED dimming technology for superior blacks and shadow detail. Samsung calls it Precision Dimming. No Samsung set this year employs LED backlighting with local dimming, but Precision Dimming appears to be a surprisingly good replacement. If you can afford it, you'll want it. The LED edge lighting in the 7000 series is fixed in level. But apart from Precision Dimming, the 7000 and 8000 lines appear to be siblings. They offer the same 3D features.
So how does 3D look on the UN46C8000? In a word—and keeping in mind the fact that we only had a single disc to check it out—spectacular. In many ways, it was even better than the best theatrical 3D presentations I've seen. It was brighter, and the layering and detail were more subtle. Thankfully, objects don't constantly leap out of the screen at you. However, when they do, the result is dramatic and fully convincing. The Monsters vs. Aliens disc also includes three computer-animated 3D extra features, which are equally effective.
While the 3D effect in itself is remarkable, a 46-inch screen isn't big enough to generate a real sense of immersion. If your budget allows, get a bigger set. The 8000 line also includes 55-inch ($3,500) and 65-inch ($5,000) models. It will be money well spent. I sat very close to the screen (just under 6 feet) for my testing, but not all of you will find this practical. It also limits the range of seating for optimum viewing. The Samsung's off-axis performance is no better than that from most LCD HDTVs, whichis to say it's the set's main weakness. The 3D effect also falls off progressively as you move off center.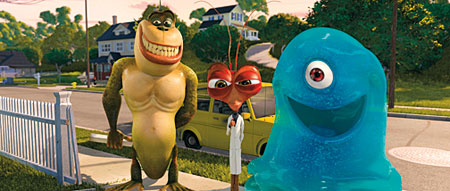 The picture was noticeably dimmer with 3D material than with glasses-free 2D. This is despite the fact that the 3D setup menu (separate from the 2D menus) defaults to maximum settings on both the Backlight and Contrast controls. This reduced light output wasn't a surprise, since virtually all 3D films I've seen theatrically have looked noticeably dim (dual-projector IMAX 3D presentations are the only exception). As is the case with most animated features, Monsters vs. Aliens features mostly bright, colorful images. There are very few dark scenes, and certainly nothing compared with what you'll find in many live-action films. Once my eyes adjusted, I never felt that the picture lacked sufficient punch. However, the loss of brightness in 3D could be a concern in live-action films, not to mention the lower light levels available from video projectors.