First Look 3D: Samsung UN46C8000 3D HDTV and BD-C6900 Blu-ray 3D Player Page 2
Some of the loss of brightness results from how the Samsung uses its 240-hertz native refresh rate for 3D. For 3D playback, Samsung uses a technique called black frame insertion. When it's engaged (and you can't defeat it in 3D mode), every other image each eye sees is black. As you might imagine, this reduces the image's overall brightness. But it's necessary to limit the ghosting that can result from LCD's relatively slow reaction time. Ghosting occurs in 3D when one eye sees an image that's intended for the other eye.
I wore the 3D shutter glasses over my distance/movie-watching glasses, and I found them to be mildly uncomfortable. But after about three hours of watching the set with both pairs of glasses in place, I got used to them and didn't find them to be annoying or distracting. But that reaction may well differ with the individual. I'd pop for a set of prescription 3D shutter glasses if such a thing ever becomes available.
I never had headaches or other negative physical reactions to the 3D experience. But it might bother some viewers. Keep in mind that physical reactions to the passive polarized glasses used in theaters might not translate to the shutter glasses used at home.
I did experience one problem. A few minutes into Monsters vs. Aliens, the sound cut out and the picture became choppy, much like a bad Internet video. I unplugged the player and plugged it back in, and that cleared the problem. The movie played all the way through, from beginning to end, plus the extras, without a glitch. I suspect the problem was in the player (which worked without a glitch on the 2D material I sampled).
So where is the 3D source material? Good question. We'll be lucky to see more than a dozen titles on Blu-ray 3D by the end of the year, and perhaps fewer. There'll also be few cable or satellite 3D channels before 2011. That could put a damper on 3D sales. But two manufacturers, Samsung and Toshiba, are equipping their 3D sets with a 2D-to-3D conversion feature. Now you can see everything in 3D.
Frankly, I had low expectations for this sort of processing. But Samsung's 2D-to-3D conversion works. I tried it on several 2D Blu-ray Discs. The effect was certainly nowhere near as dramatic as what a true 3D source provides, and it varied with the program material, but it wasn't a joke by any means. Even simulated 3D will impress a lot of folks—not to mention help sell 3D HDTVs. And the more sets there are out there, the more true 3D source material we'll get.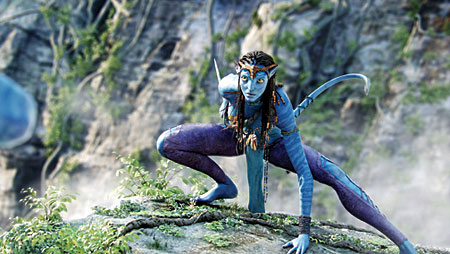 The set arrived too close to our deadline for us to perform our usual in-depth review. For now, even apart from the 3D experience, the Samsung UN46C8000's overall performance appears to be excellent. In particular, it offers superb black level and shadow detail thanks to its new Precision Dimming feature. Look for more details and a full review of the UN46C8000 3D HDTV and the BD-C6900 Blu-ray 3D player in our July 2010 issue.