Field of Dreams (Blu-ray)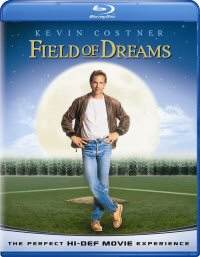 Iowa corn farmer Ray Kinsella (Kevin Costner) questions his own sanity when he hears a voice whispering, "If you build it, he will come." Eventually, a vision of a baseball field appears in the distance, planting the seed of a most unusual idea. With the help of his supportive wife Annie (Amy Madigan), Ray tears up a portion of his crop and constructs a baseball diamond, leading to the appearance of Shoeless Joe Jackson (Ray Liotta) and seven other White Sox players from the disgraced 1919 team. Play ball!
I've seen Field of Dreams countless times over the past 20 years, and it still moves me. Ray puts everything on the line—his farm, his family, and his reputation—in order to build the field. The story has plenty of humor, it's extremely well written and acted, and Kevin Costner delivers one of the best performances of his distinguished career.
The 1080p AVC encode is a decent effort for a catalog title, but it certainly shows its age. Colors are generally strong and vibrant, especially the green grass of the field and the corn stalks. However, the image is very hazy and soft on both long shots and close-ups. Fortunately, the black levels are respectable, and the special effects from Industrial Light and Magic blend seamlessly into the image.
The DTS-HD MA 5.1 soundtrack won't test the prowess of your audio system, but it's serviceable for the genre and age. Dialog is clear and intelligible, the stereo spread across the front is wide with suitable dynamics, but James Horner's Oscar-nominated score is the highlight with impressive frequency range. The surround speakers provide some minor ambience with voices and echoes, but when a thunderstorm pounds the town, the LFE is weak and doesn't deliver a sense of being there.
The standard-definition bonus features include a commentary from director Phil Aiden Robinson and director of photography Jon Lindley. Other supplements include deleted scenes, some behind-the-scenes featurettes, an interesting roundtable discussion with Kevin Costner, Bret Saberhagen, George Brett, and Johnny Bench —a must-watch for any baseball fan. Rounding out the goodies are theatrical trailers from Universal via its BD-Live network (Internet access and Profile 2.0 player required).
The story told in Field of Dreams is timeless, entertaining, and only gets better with repeat viewings. The presentation lacks the polish of a new release, but the audio and video are respectable. Recommended.
Release Date:May 26, 2009
Studio: Universal
Movie: 9/10
Picture: 7/10
Sound: 7/10

Review System
Source
Oppo BDP-83 Blu-ray player

Display
JVC DLA-RS1 projector
Stewart FireHawk screen (76.5" wide, 16:9)
Electronics
Onkyo Pro PR-SC885 pre/pro
Anthem PVA-7 power amplifier
Belkin PF60 power conditioner
Speakers
M&K S-150s (L, C, R)
M&K SS-150s (LS, RS, SBL, SBR)
SVS PC-Ultra subwoofer
Cables
Monoprice HDMI cables (source to pre/pro)
Best Deal analog-audio cables
PureLink HDC Fiber Optic HDMI Cable System (15 meters) from pre/pro to projector

Acoustical treatments from GIK Acoustics
LATEST VIDEO