Fearless—Director's Cut Fearless—Director's Cut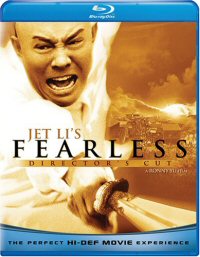 When an ill-advised fight destroys the reputation of renowned martial-arts champion Huo Yuanjia (Jet Li), his family pays the ultimate price. Shamed and disgraced, Huo must look within himself to find inner peace and discover what his mission in life should be.
Martial-arts films aren't my genre of choice, but Fearless is one my favorite films of this decade. The direction by Ronny Yu is fabulous, and the cinematography by Poon Hang Sang is breathtaking. There are plenty of action scenes as expected from the martial-arts genre, but the drama and human story are what set it apart.
First seen on HD DVD nearly two years ago, Fearless doesn't disappoint on Blu-ray. Detail is spectacular with only occasional softness creeping in. Black levels are rock-solid and inky with excellent shadow detail. Color saturation is fantastic—particularly red, which jumps off the screen. The Chinese countryside looks amazing, especially the remote village in which Huo resides during the second act—in fact, it looks more like a Discovery Channel documentary than a feature film.
The DTS-HD MA 5.1 Mandarin soundtrack is fantastic, and there is also a 1.5 Mbps DTS English option. With foreign movies, I prefer to listen to the native track and read the subtitles in order to garner the nuances of the acting and the story. The soundstage is extremely active, especially during the many fight sequences. LFE use is ample, especially during a rousing thunderstorm in chapter 8. But it's the quieter moments, such as the gentle breeze in the countryside that moves through the soundstage creating a "being there" effect, that impressed me the most.
The package includes three versions of the film—the original theatrical version (PG-13), the international version (unrated), and the superior director's cut, which expands the character development. The only true bonus feature is a 16-minute featurette (SD) exploring the career of Jet Li and how Fearless would be his final film—although, as it turns out, he changed his mind.
I generally find director's cuts a bore with their bloated runtime, but that isn't the case with Fearless. The additional character development adds some complexity to the characters, particularly Jet Li's portrayal of Huo Yuanjia. Highly recommended.
Release Date: December 9, 2008
Movie: 9/10

Picture: 9/10

Sound: 9/10

Review System


Source

Panasonic DMP-BD55



Display

JVC DLA-RS1 projector

Stewart FireHawk screen (76.5" wide, 16:9)


Electronics

Onkyo Pro PR-SC885 pre/pro

Anthem PVA-7 Amplifier

Belkin PF60 power conditioner


Speakers

M&K S-150s (L, C, R)

M&K SS-150s (LS, RS, SBL, SBR)

SVS PC-Ultra subwoofer


Cables

Monoprice HDMI cables (source to pre/pro)

Best Deal analog-audio cables

PureLink HDC Fiber Optic HDMI Cable System (15 meters) from pre/pro to projector

Acoustical treatments from GIK Acoustic
LATEST VIDEO