FCC Says Yes to Sirius/XM Merger
Following a long and contentious debate, the Federal Communications Commission has OKed the
merger
of the Sirius and XM satellite radio networks. The immediate effect of this controversial move will be a monopoly in consumer satellite radio service. However, the two money-losing companies have long said that only a merger would allow them to cut costs, make money, and survive in the longterm.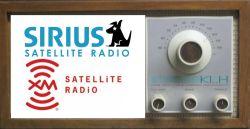 The process was a nail-biter right up to the very end, with the FCC split between chair Kevin Martin and two pro-merger members, and two other members who were against the merger. Commissioner Deborah Tate cast the deciding vote in the 3-2 split. The merger had previously won U.S. Justice Department approval in March.
Under the merger agreement, the two networks would be merged into a single one with 17.3 subscribers. Shareholders of each company would retain roughly half of the combined company, with each share of XM stock replaced by 4.6 shares of Sirius stock. XM is required to restructure $1.1 billion in debt before completion of the merger. And both companies have agreed to pay $20 million in fines for various violations stemming from a 2006 FCC investigation.
Existing Sirius and XM satellite gear will continue to function though you'll need new gear to access the new a la carte service. A new receiver compatible with both systems will become available within nine months of the merger. Other companies will be free to offer satellite gear under their own brands, ending what has amounted to a hardware monopoly for each network, and precluding the possibility of a hardware monopoly for the new one.
The joined company has agreed to freeze rates at $12.95/month for three years. In a last-minute addendum, the FCC said it would review the matter six months before that period expires for a possible extension. A new a la carte offering will include 50 channels of the customer's choosing for $6.99/month, or 100 for $14.99/month. There will also be music and "family friendly" packages.
The new network will set aside four percent of channels for noncommercial and educational programming, and will not give more than one channel to any applicant. It will not originate local programming through repeaters, and thus will not compete with terrestrial broadcasters. The FCC says it specifically "prohibited the merged entity from entering into agreements that would bar any terrestrial radio station from broadcasting live local sporting events."
The merger, first announced in 2007, has been a controversy magnet ever since. Its chief opponent has been the National Association of Broadcasters, which has rightly pointed out that the satellite merger creates a monopoly, asserting that this is unfair competition against terrestrial radio stations.
This argument was echoed by public interest groups such as the Consumer Federation of America, though not unanimously. Public Knowledge released a statement saying it was glad the FCC has included some of its suggested provisions (such as a la carte service) in the merger terms.
The FCC summed up its attitude toward the monopoly issue: "After reviewing the empirical data available as part of its competitive analysis, the Commission determined that there was insufficient evidence in the record to predict the likelihood of anticompetitive harms."
See FCC news release (PDF), list of concessions, and coverage in ArsTechnica.