Fantasia/Fantasia 2000 (Blu-ray)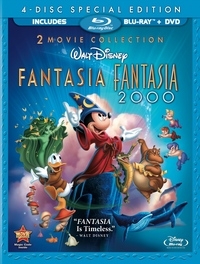 Initially released by Walt Disney in 1940 as a "road show" release,
Fantasia
has gone on to become one of the most popular movies of all time. Featuring the Philadelphia Orchestra conducted by Leopold Stokowski, the film has eight musical pieces set to wonderful animation and is narrated by Deems Taylor. (Interestingly, while the music was recorded by the Philadelphia Orchestra, the on-screen musicians seen in silhouette between the musical selections were members of the Los Angeles Philharmonic, and
UAV
editor Scott Wilkinson's grandfather was one of them.)
Fulfilling Walt Disney's original vision of continuing to create unique fusions of animation and classical music, Fantasia 2000 picks up where the first one left off with seven completely new segments and the return of the popular "The Sorcerer's Apprentice." Roy E. Disney orchestrated a collaboration of more than 1200 artists and technicians to present this tour de force.
Video Highlights

AVC/1080p encodes on a BD-50 discs
Fantasia has never looked better
Richly saturated colors
Clean prints
Fabulous detail
Audio Highlights

DTS-HD MA 7.1 soundtracks
Fantasia was the first multi-channel theatrical soundtrack
Excellent frequency response
Superior dynamics in Fantasia 2000
Fantasia 2000 is the better of the two presentations, but it's 60 years newer, so this shouldn't surprise anyone. Regardless, both blow away their DVD counterparts (also included in the set) with outstanding visuals and wonderful audio.
Bonus Materials

Fantasia

Disney View
Three audio commentaries
Disney Family Museum featurette
The Shultheis Notebook: A Disney Treasure
Interactive Art Gallery and Screensavers
DVD copy of film
Fantasia 2000
Musicana-Walt's Inspiration for a Sequel featurette
Two audio commentaries
Dali & Disney: A Date With Destino
Original DVD Bonus Features from Legacy Collection DVD
Disney's Virtual Vault – BD-Live Feature
DVD copy of film
Of the two productions, I prefer Fantasia 2000 because I like its music selections better, especially "Rhapsody in Blue." Both of my kids play the cello, and I like to think they got their inspiration from listening to both of these collections on DVD when they were younger. We certainly enjoyed viewing them again on Blu-ray. Highly recommended.
Release Date: November 30, 2010
Studio: Disney
Fantasia
Movie: 8/10
Picture: 9/10
Sound: 9/10

Fantasia 2000
Movie: 9/10
Picture: 10/10
Sound: 10/10

Review System
Source
Oppo BDP-83 Blu-ray player

Display
JVC DLA-RS1 projector
Stewart FireHawk screen (76.5" wide, 16:9)
Electronics
Onkyo Pro PR-SC885 pre/pro
Anthem PVA-7 power amplifier
Panamax M5400PM power conditioner
Speakers
M&K S-150s (L, C, R)
M&K SS-150s (LS, RS, SBL, SBR)
SVS PC-Ultra subwoofer
Cables
Monoprice HDMI cables (source to pre/pro)
Best Deal analog-audio cables
PureLink HDC Fiber Optic HDMI Cable System (15 meters) from pre/pro to projector

Acoustical treatments from GIK Acoustics
LATEST VIDEO