Family Guy: It's a Trap! (Blu-ray)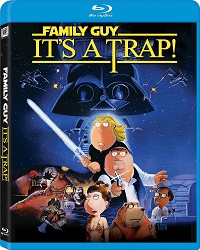 The
Family Guy
alliance is in for one last outer-space adventure, as Han Solo (Peter), Chewbacca (Brian), and Princess Leia (Lois) battle against the Evil Empire. Meanwhile, Darth Vader (Stewie) and the Emperor (Carter) try to recruit Luke (Chris) to the dark side of the Force with free tacos and T-shirts.
Just like its two predecessors, this parody is crude and obnoxious and occasionally funny. I would have preferred to have seen the TV version to eliminate the "F" word, which I don't particularly care for in this context.
Video Highlights

AVC/1080p encode on a BD-50 disc
Excellent color saturation
Deep blacks
Interlace artifacts and occasional video noise
Audio Highlights

DTS-HD MA 5.1 soundtrack
Intelligible dialog
Wide and dynamic stereo separation across the front
Strong frequency response
Enveloping surround environment
The animation style is rudimentary compared to today's computer generated images, but it gets its point across. The highlight of the presentation is the score, which sounds outstanding.
Bonus Materials

A Very Special Message from Darth Stewie
Star Wars Trivial Pursuit: The Ultimate Championship
Drawing with Peter Shin
Sock Puppet Outtakes
Family Guy: It's a Trap! Animatic
Making the Scene
Audio commentary
DVD and Digital Copy
I have to admit that I laughed on a couple of occasions, but the program runs much too long and there are too many stretches with virtually no humor. Fans of the TV series will undoubtedly enjoy this more than me since I don't watch the show. I would suggest a rental first to see which camp you're in.
Release Date: December 21, 2010
Studio: Fox
Movie: 5/10
Picture: 8/10
Sound: 9/10

Review System
Source
Oppo BDP-93 Blu-ray player

Display
JVC DLA-RS1 projector
Stewart FireHawk screen (76.5" wide, 16:9)
Electronics
Integra DTC-80.2 pre/pro
Anthem PVA-7 power amplifier
Belkin PVA-PF60 power conditioner
Speakers
M&K S-150s (L, C, R)
M&K SS-150s (LS, RS, SBL, SBR)
SVS PC-Ultra subwoofer
Cables
Monoprice HDMI cables (source to pre/pro)
Best Deal analog-audio cables
PureLink HDC Fiber Optic HDMI Cable System (15 meters) from pre/pro to projector

Acoustical treatments from GIK Acoustics
LATEST VIDEO