The Express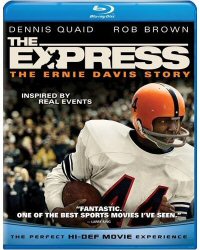 Ernie Davis (Rob Brown) led a short yet inspirational life. Hailing from a coal-mining town in Pennsylvania, Davis beat the odds to become an unstoppable running back for the Syracuse Orangemen in the late 1950s. With the guidance of coach Ben Schwartzwalder (Dennis Quaid), he's transformed from a very good high-school athlete into a Heisman Trophy winner—the first African-American to win the coveted prize as the best player in college football.
The pacing is brisk throughout and does a great job of telling Ernie's story. There are some Hollywood embellishments along the way, but they don't stray too far out of bounds from real life, and the ending had my whole family tearing up. John F. Kennedy summed up the spirit of Ernie Davis after he won the Heisman, saying, "Seldom has an athlete been more deserving of such a tribute. Your high standards of performance on the field and off the field reflect the finest qualities of competition, sportsmanship, and citizenship. The nation has bestowed upon you its highest awards for your athletic achievements. It's a privilege for me to address you tonight as an outstanding American and as a worthy example of our youth. I salute you."
As much as I enjoyed the film, I was blown away by the VC-1 encode, which is perfect. The black levels are inky with impeccable shadow detail, and the colors are equally impressive—from the lush green of the gridiron to the glossy orange football helmets. Detail stays razor-sharp throughout, from close-ups to the long sweeping shots from above.
The DTS-HD Master Audio 5.1 soundtrack also delivers the goods. Dialog is crystal clear and intelligible, and the percussion-heavy score from Mark Isham delivers some thunderous bass and collegiate marching-band influence with heavy drum beats. The surround channels provide adequate ambience with ample crowd noise during the football games.
The bonus features include some deleted scenes, a making-of featurette, a couple of pieces about Ernie Davis, and a commentary with director Gary Fleder. The BD-Live disc allows you to share scenes with friends and access Universal's download center for some trailers. Another exclusive available only on Blu-ray is a 50th-anniversary look at the 1959 Syracuse national championship game featuring the heroics of Ernie Davis and his team.
I'm a sucker for sports dramas, and The Express struck a chord with me. The acting by Quaid and Brown is phenomenal, and the story is compelling and inspirational. Highly recommended!
Release Date: January 20, 2009
Movie: 9/10
Picture: 10/10
Sound: 9/10

Review System
Source
Panasonic DMP-BD55

Display
JVC DLA-RS1 projector
Stewart FireHawk screen (76.5" wide, 16:9)
Electronics
Onkyo Pro PR-SC885 pre/pro
Anthem PVA-7 Amplifier
Belkin PF60 power conditioner
Speakers
M&K S-150s (L, C, R)
M&K SS-150s (LS, RS, SBL, SBR)
SVS PC-Ultra subwoofer
Cables
Monoprice HDMI cables (source to pre/pro)
Best Deal analog-audio cables
PureLink HDC Fiber Optic HDMI Cable System (15 meters) from pre/pro to projector

Acoustical treatments from GIK Acoustics
LATEST VIDEO