The Exorcist (Blu-ray)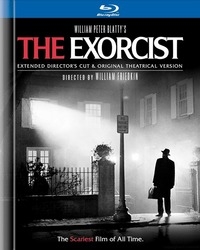 A young and innocent girl, Regan (Linda Blair), undergoes a chilling metamorphosis as Satan invades her body. Her frantic mother (Ellen Burstyn) does her best to help, but the doctors and psychiatrists are perplexed by the child's physical and mental changes. Looking for any type of answer, she turns to a local church where poor Father Damien Karras (Jason Miller), who has his own doubts about his faith, calls on the services of Father Merrin (Max von Sydow) to perform an exorcism to expel Satan from the child.
I had reservations watching because I'm not a fan of scary movies and this is one of the scariest I've seen in my life. Blair does an outstanding job playing the possessed child and director William Friedkin definitely deserved his Oscar nomination.
Video Highlights

VC-1/1080p encode on a BD-50 disc
Outstanding depth and detail
Occasional black crush
Print is in stunning condition
Audio Highlights

DTS-HD MA 6.1 soundtrack
Clear dialog but occasionally gets overwhelmed by atmospheric noises (blame Satan)
Room-shaking bass
Plethora of discrete effects
Thin dynamics
Warner delivers another video masterpiece of a 37 year old film. In fact, when opening the package there's a note from Friedkin gushing about the restoration job the studio performed. The audio does its best to creep out the audience, but dynamics are inhibited by the original recording.
Bonus Materials

Disc 1
Extended Director's Cut on a BD-50 disc
3-Part documentary on the movies production and legacy
Commentary by director William Friedkin
3 featurettes
Disc 2
Original Theatrical Cut
2 Commentaries
Introduction by William Friedkin
1998 Documentary The Fear of God: The Making of The Exorcist
3 Interview galleries
Original ending
It's been over 25 years since seeing this and even as an adult it scared the crap out of me. Fans will be pleased with the digi-book packaging and its interesting tidbits on the cast and production, but this movie certainly isn't for the faint at heart. Recommended.
Release Date: October 5, 2010
Studio: Warner
Movie: 9/10
Picture: 9/10
Sound: 8/10

Review System
Source
Oppo BDP-83 Blu-ray player

Display
JVC DLA-RS1 projector
Stewart FireHawk screen (76.5" wide, 16:9)
Electronics
Onkyo Pro PR-SC885 pre/pro
Anthem PVA-7 power amplifier
Panamax M5400PM power conditioner
Speakers
M&K S-150s (L, C, R)
M&K SS-150s (LS, RS, SBL, SBR)
SVS PC-Ultra subwoofer
Cables
Monoprice HDMI cables (source to pre/pro)
Best Deal analog-audio cables
PureLink HDC Fiber Optic HDMI Cable System (15 meters) from pre/pro to projector

Acoustical treatments from GIK Acoustics
LATEST VIDEO