Essence Ships New Line of Electrostatic Speakers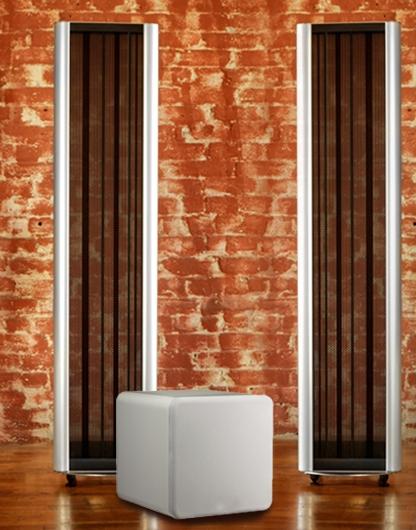 Essence Electrostatic has announced that its new line of floor standing electrostatic speakers is now available.
Two full-range "one-way" designs are available: The 63-inch-tall Model 1600 ($5,495/pair) and the 49-inch-tall Model 1200 (shown, $3,995/pair), both of which are 11 inches wide, 1-inch deep, and have a rated frequency response of 48 Hz-23 KHz ±3dB and respective sensitivity ratings of 89 and 88 dB, making them suitable for a range of 4-, 6-, and 8-ohm amplifiers, according to Essence.
In contrast with conventional speakers that use woofers and tweeters mounted in a cabinet to produce sound, Essence speakers are dipole by nature and use a thin-film Mylar diaphragm suspended in an electrostatic field between two perforated acrylic panels called "stators" to radiate sound from the front and back of the panel. Perforation allows sound waves to travel through the acrylic panels and also makes them "transparent."
Essence claims to be the first manufacturer to use the same "printed electronics" process used for OLED TV production in which conductive inks are used to apply the positive and negative circuit paths that create the electrostatic field.
Regarding the AC power required to create the electrostatic field, Essence says both models draw a maximum of 2 watts/per channel during operation and include circuitry that turns off the field when the speakers are not in use to prevent dust from collecting on the electrostatic elements.
For medium to large listening rooms, Essence offers the SB-1000 powered subwoofer ($599), featuring a 12-inch driver and 300-watt Class D amplifier in a sealed cabinet. The bass module is designed to operate below 50 Hz and is finished in white gloss.
Models 1200 and 1600 were designed by Maarten Smits, founder of the Dutch brand Final, and feature finely crafted supports made of aircraft-grade aluminum. The stators are flat, as opposed to the curved design used in other electrostatic speakers, because Essence believes that having a flat stator makes it easier to maintain a symmetrical push/pull on the diaphragm and preserves the stereo image by limiting the amount of reflected sound at the sweet spot.
Both models come with standard VESA wall-mount plates for mounting the speakers on articulating brackets (not included) that pull the speaker away from the wall, which is necessary for optimum performance.
More information is available at essenceelectrostatic.com.
LATEST VIDEO