The Equalizer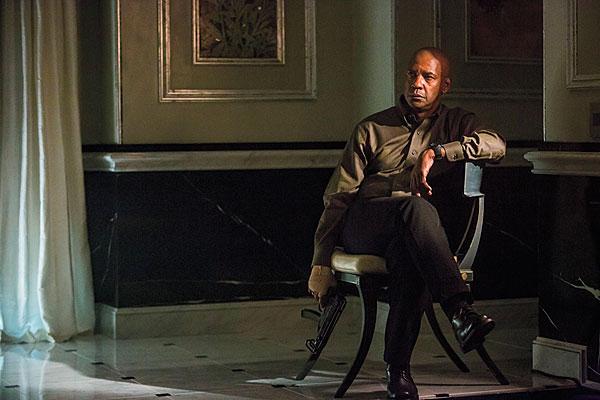 Initially, in the first half hour of uneventful character development, we're presented with dismal, dim rooms, gloomy apartments, and Edward Hopper–like coffee houses. Later, the once quiet-spoken, simple-living Denzel Washington goes into deadly Bourne-style fight mode in a Russian mobster's restaurant. A more comic-book look takes over, the lighting striking, while plentiful detail, differentiation of elements, and sharpness emerge so you can even see follicles on Denzel's shaved head. Bland colors become rich, blacks go from muddy to matte, and whites become bright.
One kick-ass action sequence assembling all elements of recent impressive movie mayhem is set in the starkly lit semi-darkness of a Home Depot with our antihero weaponizingly employing the store's inventory of tools to drill, immolate, and nail-gun every mother henchman. Simultaneously on the 7.1-channel soundtrack, sprinklers spray down on you, while bullets and shell casings bounce around your head from rears to surrounds, accompanied by blaring guitars, electronica, and piano, drums pounding up front. The initially subtle classical music goes deep rock with rumbling instruments nicely placed in each channel. Effects are immensely convincing. All effects and music are continuously used to build tension and menace before the violence escalates.
The extras' "Vengeance Mode" lets you watch the film with very occasional but interesting footage of stars and director commenting on the scenes and characters. Several short, lightweight featurettes include a look at the Equalizer character, fight choreography, a piece adoring Washington's generosity and professionalism, and an equally worshipful tribute to director Antonie Fuqua.
Blu-Ray
Studio: Sony Pictures, 2014
Aspect Ratio: 2.40:1
Audio Format: DTS-HD Master Audio 7.1
Length: 132 mins.
MPAA Rating: R
Director: Antoine Fuqua
Starring: Denzel Washington, Marton Csokas, Bill Pullman
Like a big, wet, dumb, dopey dog jumping all over you, The Equalizer hits with home theater power that thumps you in the chest if not the heart. An ex-CIA operative has taken on a new identity, living in obscurity, working in a Home Depot, helping people with their self-esteem issues whenever he can, whether they need to lose weight, get an education, or stop being a corrupt cop. However, when faced with a teenager's plight of enslavement by brutal sex traffickers, he's forced back into using his main skillset—terminating roomfuls of bad guys with extreme swiftness and minimal prejudice.