Epson PowerLite Pro Cinema 9700 UB LCD Projector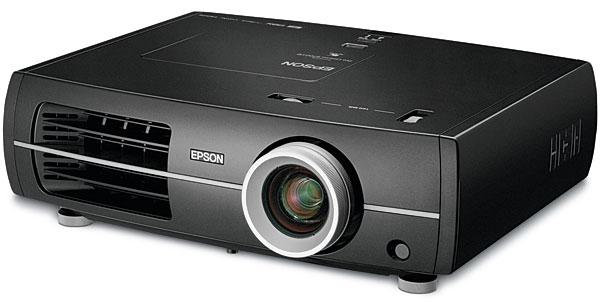 Price
: $3,199
At A Glance
: Class-leading features • Anamorphic lens compatibility • Incredible value
Still Defining Value
It's truly amazing the kinds of values you can find in home theater today. When I first got into this hobby in the mid-'90s, most frontprojection systems were bulky and expensive. But with projectors like the Epson PowerLite Pro Cinema 9700 UB, consumers can have truly outstanding front projection for the cost of a higher-end flat-panel HDTV, something that was unheard of even a few years ago. And the value isn't the only thing to get excited about. Epson includes some very cool features in this gem, including THX certification, anamorphic lens compatibility, and a host of video processing features.
The Package
The 9700 UB's predecessor, the Pro Cinema 9500 UB, earned a Top Pick rating in our March 2010 issue. The 9700 UB looks identical to the 9500 UB, because for the most part, it is. Epson took the "if it isn't broken" approach and only made some fine tweaks to the already outstanding 9500 UB. The 9700 UB still includes the extra bulb that has been a trademark for Epson's Pro Cinema line. Previous entries have included installation mounts, but you won't find that here. The MSRP this year is $500 less, which will give you more than enough left over to purchase a mount.
The 9700 UB has full horizontal and vertical lens shift, which will give you plenty of leeway for installation. Since the Epson uses an offset lens, lens shift is a musthave. Installation is always a bit trickier with a lens that isn't centered on the chassis. Both zoom and focus are manually adjusted on the lens rings. I was disappointed that the projector didn't have motorized focus, as LCD projectors are typically harder to focus from a distance. I recommend that you ask a friend to come over and help you tighten the focus; one stands right at the screen while the other adjusts the focus.
All of the Epson's inputs are on the back. You get two HDMI inputs plus the standard composite, S-video, and component inputs. Epson also includes RS-232 for remote systems and a trigger that you can use for a motorized screen or a motorized lens sled with an anamorphic setup.

The 9700 UB offers a slew of picture modes and more video enhancements than you could possibly need. (As with most displays, you'll do better to leave most of them off.) There are a couple of ISF modes and a THX mode, but none of them was totally accurate out of the box. The THX mode was close, though; I only had to make some minor tweaks to the contrast setting to get the standard settings more or less dialed in. Epson also includes all of the more advanced calibration settings, such as gray scale and color management in the user menus. Advanced calibration requires the proper instruments and training. It's best to leave this to an ISF- or THX-certified technician with the proper tools.
Like most display manufacturers, Epson provides a lot of video processing. This includes an assortment of detail enhancements, contrast enhancements, and video processing functions like film interpolation. The sharpness and color enhancements add a bit more pop to your image, but these features always come at a cost. Artifacts appeared right away when I looked at high-resolution test patterns with some of these features turned on. Whether you'll find this distracting in normal viewing will depend on you, but with more and more sources originating in high definition, I typically go with the least amount of processing possible.

Frame interpolation is also one of those features that consumers seem to both love and hate. I side with the haters, as I like my movies to look like movies and not daytime soap operas. However, I also recognize the benefits of smoother motion with sports and TV shows. While I didn't engage any interpolation features, I did engage 4:4 pulldown. With 1080p/24 signals, 4:4 pulldown flashes each frame four times for a total refresh rate of 96 hertz. This maintains the natural look of film while reducing flicker. With frame interpolation engaged, the Epson interpolates these added frames instead of simply repeating them. With frame interpolation engaged with a 60-Hz source (which includes interlaced sources after the Epson has deinterlaced them), the Epson adds a single interpolated frame to each real frame for a total refresh rate of 120 Hz.
Like most projectors these days, the 9700 UB offers a few options to optimize image contrast. The Epson's UltraBlack dynamic iris system, also found in the 9500 UB, has three different modes: Off, Normal, and Fast. You also get a not-useful Super Contrast mode that produces an artificial, electronic contrast boost.
The RGB menu provides red, green, and blue calibration adjustments at the top (Gain) and bottom (Offset) of the brightness range for adjusting the gray scale. A separate Absolute Color Temperature control adjusts the gray scale in 500K increments from 5,000K to 10,000K, except in THX mode, where it is locked out. The THX mode still lets you access the RGB menu calibration controls. The RGBCMY color management system provides Hue, Saturation, and Brightness controls for all of the primary (red, green, and blue) and secondary (cyan, magenta, and yellow) colors.
LATEST VIDEO