Epson LS800 4K UST Projector Review

PRICE
$3,499 (without screen)
AT A GLANCE
Plus
Sits close to wall
Very bright
Low input lag
No rainbow effect
Accurate colors
Minus
Limited color gamut
Can't be calibrated
No HDMI 2.1
2-way pixel shift
No 3D
THE VERDICT
Serving up to 150 inches of viewing, Epson's new triple-LCD UST blows away the UST competition with its category-leading high brightness and easy placement. It's a do-it-all display equally happy to serve up TV, streaming shows, live sports, video games, and 4K movies.
The ultra-short-throw projector category is where all the action is these days when it comes to home entertainment projection. You'll find both name-brand TV makers and brands you've never heard of battling it out for a spot in your living room. But here's the thing: A UST can do both TV and home theater projector-like things. And in some ways, it's a whole new animal.
The Epson LS800 is an update to the company's LS500 UST. It has the same brightness specs, but it's a total reimagining of how the parts are packaged. Whereas the LS500 had a periscope-style lens and sat further from the wall than competing USTs, the LS800 sits remarkably close to the wall. The result is a new model that impresses with both its picture quality and ergonomics.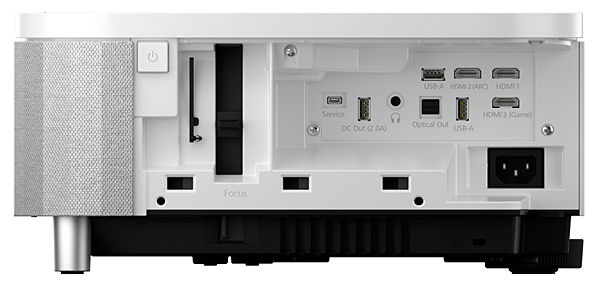 Features And Setup
The 4000 ANSI lumen brightness and 0.16:1 throw ratio are perhaps the two most notable features. But the LS800 is also different from most UST projectors because it uses a three-chip RGB LCD instead of a single-chip DLP as the imager, so it's free of the "rainbow effect" artifacts that can pop up with DLP projection.
This projector uses a laser-phosphor light source, which limits its color gamut in comparison to some triple-laser RGB USTs. But, it exhibits none of the laser speckle artifacts that are often a visible distraction with triple-laser models. Another advantage of the three-LCD design is that, when compared to DLP USTs, it has extremely low input latency (under 20 milliseconds at 4K 60 Hz) making it ideal for gaming.
The native resolution of the 3-LCD imager is 1080p, but Epson uses a two-way pixel shifting technique it calls 4K PRO-UHD to put more pixels on the screen. It's a tried-and-true process that does put more resolution on screen, but it's not native 4K.
Epson supplies three HDPC 2.3 compatible HDMI 2.0 ports, one of which supports ARC, for inputs. These are found in a chamber in the right rear of the unit with a removable cover that houses all of the connections. The chamber keeps the plugs on the cables from sticking out or creating an unsightly mess. There are also S/PDIF optical out and mini stereo analog out jacks that can be used to connect to older sound systems. There is also a USB Type-A port that can supply 5 volts and up to 2 amps and it can power a Chromecast, Roku, or other device.
The HDMI3 port is made for video games. It skips the Android operating system to give gamers a faster response time, but it still has all the image processing that Epson projectors have. On the remote, it has its own button for choosing the source. In this mode, you can't make any big changes like you can in the other modes. But any settings for picture and sound made in the main menu will be carried over to the HDMI3 picture and sound. For example, if you want to change the brightness of the picture while using HDMI3, you can press the home button, make the change, and then switch back to HDMI3.
Wi-Fi 5 and Bluetooth 5.0 are used for wireless connectivity. The Bluetooth connection works with external sound devices when you use the apps that come with the Android TV OS. With Bluetooth Speaker Mode, you can play music from portable devices through the projector's built-in sound system.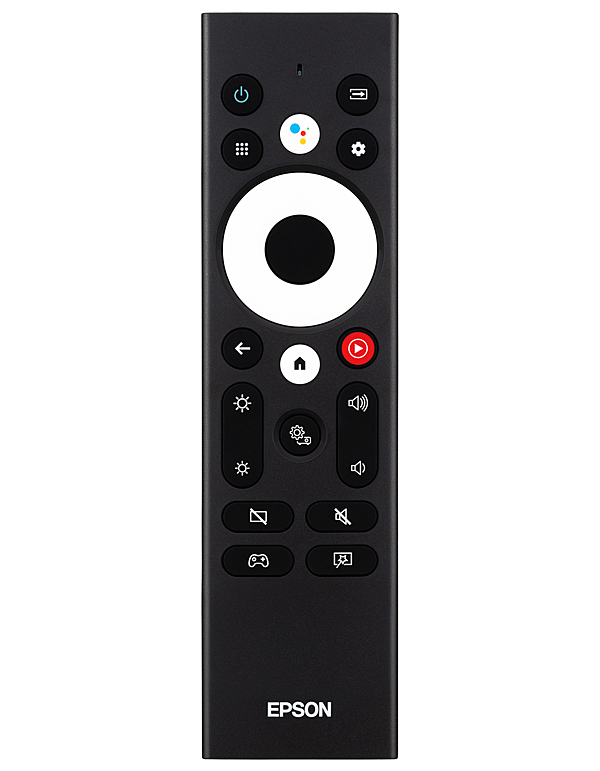 Epson provided a SilverFlex Ultra 120-inch, 0.6-gain UST-specific ALR screen for this review. This screen's MSRP is $3000, so the system as tested is $6500. If you want a TV replacement that you can watch during the day, a dedicated screen is the way to go. The UST ALR screen improves contrast in almost all viewing conditions, but particularly when there is a lot of light competing with the projector.
Screen assembly took about an hour; the instructions were clear, and the process of laying out the material and tensioning is clearly described. For a permanent installation, it is preferable to line up the image with the screen manually, which can be a little tricky. But Epson also accounts for situations where you'd want to set up a projector quickly or skip the screen altogether.
I use a 140-inch, 1.0-gain, 16:9 ratio, painted white screen as my primary living room display. But with bare walls, USTs tend to exaggerate any imperfections in the flatness, making the image look wavy (even if it looks perfect with a long-throw). Fortunately, the Epson Setting Assistant app instantly corrects the situation by analyzing a projected grid pattern. It's great for bare walls, but you can also use the feature to quickly get the projector to fit the image onto the screen. In a pinch, the app gets it done fast and easily.
Getting connected is a cinch if you have an Android phone. I used the Google app, and after confirming a code on screen, the system worked out the Wi-Fi connection, and soon enough, I was online and ready to update to the latest firmware, v1.02. This projector has Android Smart TV functionality with apps built-in, but it does not have a TV tuner. The intuitive remote has Google Assistant preinstalled for hands-free voice searching.
Note: The Where to Buy link below is an affiliate link. If you purchase through the link, we may earn a small commission at no extra cost to you. Thank you for your support!