EPA Recognizes Electronics Brands for Sustainability and Recycling Efforts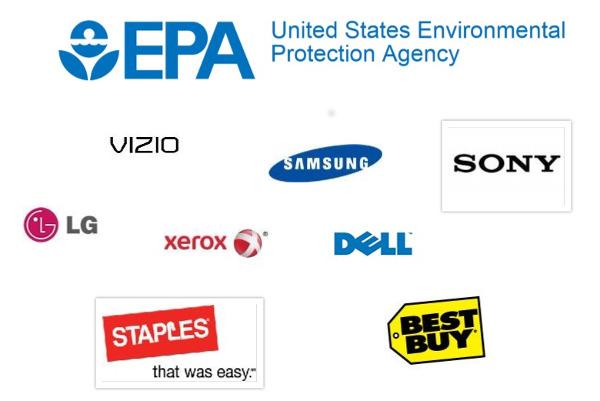 The U.S. Environmental Protection Agency (EPA) has recognized several electronics manufacturers and retailers for "making significant contributions in designing products sustainably and diverting electronics from landfills by sending them to third-party certified recyclers" as part of the agency's
Sustainable Materials Management (SMM) Electronics Challenge
.
Dell, Samsung, Staples, Xerox, Best Buy, LG, Vizio, and Sony were cited for helping to keep more than 227,000 tons of used electronics out of landfills in 2016, which equates to saving the amount of energy 58,000 homes use in a year.
"Electronics are a global economic driver with supply chains that reach around the world and products that touch every part of our lives," the EPA said in a press release. "Today's electronics are made from valuable resources and highly engineered materials including precious metals. If not properly managed at the end of their lifetime, some of the materials in electronics may pose a risk to human health and the environment."
The EPA honored Samsung (gold tier), Staples (gold tier), and LG (silver tier) with of the SMM Electronics Challenge Champion Award for exemplifying leadership and innovative processes and products that focus on environmentally responsible ways to best use a product's materials throughout its entire life cycle. The "tier" cited indicates the level of commitment with gold being the highest level with well-developed collection programs, silver mid-level with modest collection programs, and bronze entry level with no existing or new collection programs.
The Product Award went to LG for eliminating the use of several hazardous materials in its OLED TVs and for reducing their overall materials impact and making them easier to disassemble and recycle.
Staples received the Non-Product Award for its "Make More Happen" initiative, an outreach and public education campaign that has provided information on recycling to more than 6 million people.
The Cutting Edge Award went to Samsung for its Galaxy Upcycle program, under which the company provides all the necessary resources and tools to "upcycle" an old Galaxy smartphone into a new product, such as a closed circuit TV or a desktop PC.
"Innovative industry leaders finding new, sustainable methods to reduce electronic waste are paving the way for the future of manufacturing," said EPA Administrator Scott Pruitt. "Through their efforts, our 2017 SMM Electronics Challenge winners exemplify the ability to promote economic growth while protecting human health and the environment."
"This year's award winners demonstrate our industry's focus on advancing sustainable operations to reduce e-waste and our industry's overall environmental impact," said Walter Alcorn, the Consumer Technology Association's vice president for environmental affairs and industry sustainability.
Best Buy and Dell received Honorable Mentions in the Product and Cutting Edge Champion Award categories, respectively.
Visit epa.gov for more information on the SMM Electronics Challenge and click here for information how and where to or recycle electronics. For additional information, including a zip code tool that helps you locate nearby recycling locations, visit cta.tech.