The End of the Tour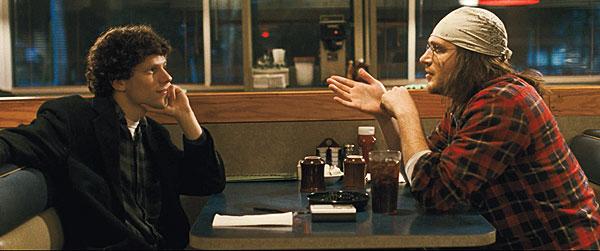 Echoing the novelist's desire to be ordinary, the picture is purposely dull and unattractive. Focus is shallow to help isolate each man in his shot from the environment and fellow humans. The only time there's a two-shot is when the men have completely stopped communicating. Images captured in shakycam and low lighting are not at all romantic or dramatic—just lifelike. Contrast is uneven. Blacks and whites are gray. Colors are schmeery grungy. Nothing is too distinct. A neon-lit scene in a supermarket gives an unreal burst of rich color and well-defined objects that helps to play up the drabness of these characters' lives.
The interesting, lyrical Danny Elfman score is well separated into each channel. It gets funkily fuzzy at times in the surrounds, but otherwise there's not much use of these channels. At other times, songs just come out of the car radio in unremarkable mono or stereo from the front. The all-important stilted but honest dialogue is clear throughout.
There's a commentary discussion between director James Ponsoldt, writer Donald Margulies, and actor Jason Segel that sounds like professors in a staff room until they start comparing Die Hard I and II and the conversation lightens up. There's a dull, ragged, talking-heads, behind-the-scenes featurette. A short interview with Elfman works better, as he's an interesting talker with an intriguing story. Like Wallace, he tries to be a regular guy because to be unreal would mean that he didn't exist.
Blu-Ray
Studio: Lionsgate, 2015
Aspect Ratio: 2.40:1
Audio: DTS-HD Master Audio 5.1
Length: 108 mins.
MPAA Rating: R
Director: James Ponsoldt
Starring: Jesse Eisenberg, Jason Segel, Joan Cusack
The End of the Tour is like My Dinner with Andre but without the dinner or Andre. Yes, it does consist of one long conversation, but unlike Wallace Shaun and Andre Gregory's fine feast of fascinating, erudite, intellectual spouting, with ideas crashing one upon another, the characters here are remarkable in their compelling ordinariness and awkwardness. It tells of a five-day interview of celebrated novelist David Foster Wallace by rookie Rolling Stone reporter David Lipsky on a road book tour following the 1996 publication of Wallace's groundbreaking novel, Infinite Jest, which wowed a generation with its brilliant virtuosity. Initially when the author, a teacher in a small-town college, is interrogated, he seems a gentle genius, a self-conscious, self-depreciating man whose desire to be authentic and decent is killing him. As the film continues, though, it becomes a brutally honest depiction of humans with all their vanities, insecurities, and ambitions on show.