Emotiva Announces Modular Monoblocks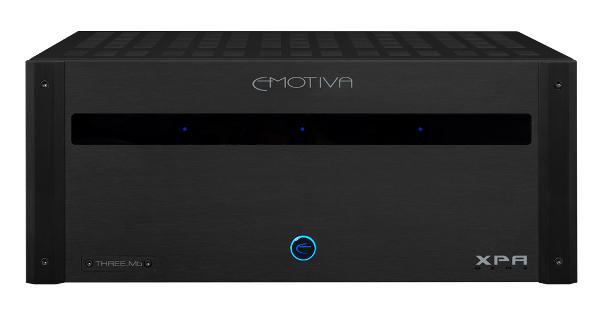 Emotiva Audio has announced a new three-channel amplifier based on three of the company's 600-watt balanced monoblock modules.
Originally referred to as the Three.MB, the new XPA DR3M is a balanced, fully differential monoblock amplifier in a three-channel configuration. Pricing was not announced but the amp is slated to ship in the summer.
Similar to Emotiva's other XPA series amplifiers, the DR3M employs a modular design that "maximizes both performance and manufacturing efficiencies" and features a high-current version of Emotiva's Soft-Switch Class H power supply for enhanced performance.
An Emotiva XPA Gen 3 chassis houses the amplifier modules, each of which occupies two slots. The chassis can be configured for one-, two-, or three-channel options. (DR1M, DR2M, and DR3M, respectively.)
Rated frequency response is 20 Hz-80 kHz, +0/–6 dB with a power bandwidth of 20 Hz-20 kHz ±0.2 dB. Signal-to-noise at 1 watt and at full power is rated at 95 dB and 125 dB, respectively.
"The XPA series' modular layout gives us the freedom to create new and exciting variations on the original, highly flexible design," said Dan Laufman, Emotiva president and founder. "Each of the DR models represent not only the best performance at the price point, but they epitomize our intent to allow consumers to customize their gear without having to pay a premium. And, like our other XPA products, DR amplifiers are manufactured on-site at Emotiva headquarters in Tennessee."
For more information, visit emotiva.com.
LATEST VIDEO