Emotion in Motion
A little motorization can add a lot of enjoyment, both functionally and aesthetically.
Plasma TVs swing and pivot in midair with the help of articulating arms. Motorized speakers unhinge and then retract. Projectors and screens gracefully descend from ceilings and then magically disappear. TVs rise and fall with the help of hydraulic lowboys. Drapes open and close at will. Seats (and parts of your anatomy) move and shake. Think your equipment needs to stay still? Think you need to stay still? Think again.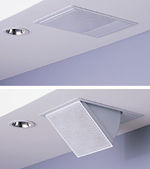 I'm here to discuss ways to help your home theater environment make peace with your entertainment system. A home theater is meant to be enjoyed. Adding a system to your living room shouldn't make you feel like you live in a laboratory. If you desperately want to reconfigure your theater but your room presents too many constrictions, you need creative solutions. Making your equipment disappear when you're not using it can be a good thing. So, after all of those years of hearing, "Bob, you're not bringing that thing in this house," perhaps the time has come for good sense to reign. Of course, that's presuming your name is Bob. If not, you may be living in the wrong house.
Please note that the products that I mention in this article are examples only. I'm not endorsing any particular brand or warranting performance.
Now You See Them . . .
KEF (www.kef.com) is a speaker company that's been around since day one, and much has changed since then, as their Ci 200QT mount demonstrates. Although it operates as a conventional ceiling-mounted design, this clever 8-inch two-way speaker comes with an infrared remote control that allows you to angle down the baffle. One of the speaker's short sides acts as a pivot. When in use, the speaker hinges down and points toward the seating area. When you're not using it, the speaker retracts so that it's flush with the ceiling. This makes the Ci 200QT as inconspicuous as possible while providing optimum performance.
Light Control
It can be a challenge to make one room serve multiple purposes. While theaters are typically dark, family rooms should be bright enough to read in, or at least bright enough to see your guests. Getting up to manually open and close your curtains or blinds can be a pain. Why not just press a button and have your drapes move automatically? From the purveyor of all things light-related, Lutron (www.lutron.com), comes the company's new Sivoia QED system. QED stands for the quiet electronic drive that operates Lutron's roller shades, Roman shades, and drapes. Lutron sound-rates their ultra-quiet QED at 44 decibels at 3 feet, which makes it perfect for any home theater. Great for hard-to-reach windows, the light gaps measure only 0.75 inches, and the easy-to-use remote control coordinates the shades and lights at the touch of a button. You can easily install the system in a new or existing home.
Solar Shading Systems (www.solarshadingsys.com) has developed a series of products that motorize vertical blinds, Roman shades, and shutters. You can even order from among 41 types of woven-wood products (bamboo, grass, jute, reed, etc.). Low-voltage IR, wall-switch, or keypad signals control the motors. Solar Shading Systems' products include handheld IR touchscreen remotes.
Makita's motorized drapery-pull system is well known in the custom-installation industry, and you can find it at your local hardware megastore or drapery shop. If you're a do-it-yourselfer, this system is relatively easy to install. Use a hacksaw to cut the rod to your specified length and install it as you would a standard, unmotorized drapery rod. Clip the motor to one end and plug it into a 110-volt outlet. Each motor can handle up to 60 pounds of drapery. Its IR remote has a range of approximately 33 feet. For creative applications, such as aspect-ratio masking, you can program the system to stop the drapes at an intermediate position. You can program a timer to move the drapes up to four times a day, or you can pull them manually. Wall-mounted switches are an option. Prices run from $569 to $1,069, depending on the rod length and whether you want single- or double-drape control.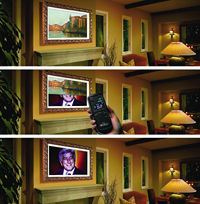 How to Tame a Wild Plasma
A plasma's dramatic appearance is often a media room's focal point. There are those people, however, who prefer that their plasma disappears when they're not using it. Fair enough. Here are three clever new ways to do just that.
Solar Shading Systems, in partnership with Bill Anderson of Genesis Audio in Irvine, California, offers the VisionArt, a panel that conceals a wall-mounted plasma behind a framed, fine-art print on a motorized, retracting canvas. This product brings together the seemingly disparate fields of interior design and home entertainment in a unique way. When you turn on your plasma, the canvas quietly rolls up inside the frame to reveal the screen. When you turn off the display, the canvas rolls back down again, concealing the screen behind it. Every VisionArt canvas print is hand-numbered and signed by the artist, making it virtually indistinguishable from the original. The collection consists of over 300 works of art, reproduced in sizes that match every plasma screen size. The frames are available in eight styles and 28 standard finishes.
If your plasma isn't wall-mounted, consider hiding it in a pop-up cabinet. Cabinet Tronix (www.cabinet-tronix.com) offers a very clever twist on the hide-a-TV-in-a-box theme. Mount your display inside one of Cabinet Tronix's cabinets, and, at the touch of a button, it will majestically rise through the top. There are 15 different styles, disguised as buffets or dressers, and a variety of woods and finishes are available. According to president Trace McCullough, Cabinet Tronix's computer-chip-based remote control is five times more reliable than the industry-standard relay-based remote. All of the electronics are neatly bundled inside the cabinet; and, in the rare case of defect, Cabinet Tronix will send you easy-to-swap replacement parts overnight. The lift is a rack-and-pinion rig, so it doesn't run into the maintenance problems that are associated with corkscrew mechanisms. Cabinet Tronix ships the cabinet from San Diego, California, with or without a premounted plasma. It arrives with plug-and-play instructions. Ballpark pricing is between $5,000 and $6,000 without the plasma.

There are always solutions for even the most challenging rooms. Art Walker of Auton Motorized Systems (www.auton.com) has done some extraordinary work designing motorized mechanisms that allow a TV to drop, tilt, and spin. I've seen one apparatus that Walker has used in several situations in which large windows and marble flooring prevent the homeowner from mounting a plasma on a wall or in a cabinet. In one beautiful home, with a gorgeous ocean view from the bedroom, a plasma rests flush against an angled ceiling soffit. Walker's four-stop motor assembly first gently drops down the TV so that it's parallel with the window. Then the TV slowly drops to the optimum viewing height. In the third step, the motor assembly performs a complete 90-degree pirouette to bring the panel in front of the viewer. The final step is a 2-foot slide to the right. Walker holds several patents based on his systems' ultra-quiet performance. "There is no articulation that we can't do," he says. This creativity comes at a price. Depending upon how many motor stops you need, be prepared to spend between $2,000 and $10,000. Check out Auton's Website for a complete line of lifts and a photo gallery of unique cabinets and applications.