Elite Screen Announces Affordable Ambient Light Rejecting Screen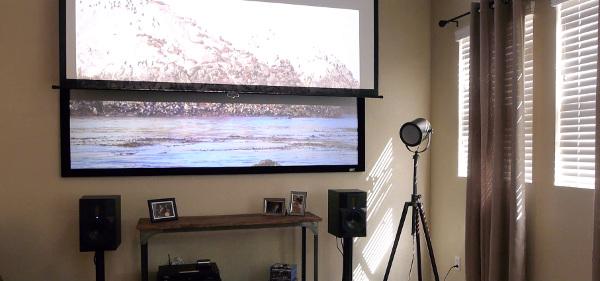 Elite Screens has announced that its CineGrey 5D Ambient Light Rejecting projection screen is now available to the consumer market. The screen, which is compatible with active 3D and 4K projectors, is said to counter the wash-out effect from ambient light while enhancing contrast and color balance.
The use of angular reflective material with a diffusion layer over a highly reflective surface causes direct light from the projector to "reflect squarely into the viewer's field of vision while the outer contrast layer enhances image quality while absorbing indirect ambient light," according to the company. The result is the ability to maintain a sharp, bright image regardless of ambient light, making it appropriate family rooms and other spaces that get a lot of natural light.
The CineGrey 5D is available in a 16:9 fixed format using Elite's SableFrame, an easy to assemble 2.4-inch aluminum frame covered in black velvet. Available screen sizes, measured diagonally in inches, are: 100 ($765), 110 ($859), 120 ($899), 135 ($1,269), and 150 ($1,539). The screen is covered by Elite's limited-lifetime warranty.
LATEST VIDEO
WHERE TECHNOLOGY BECOMES ENTERTAINMENT