Elite's New 4K Screen Makes In-Walls Disappear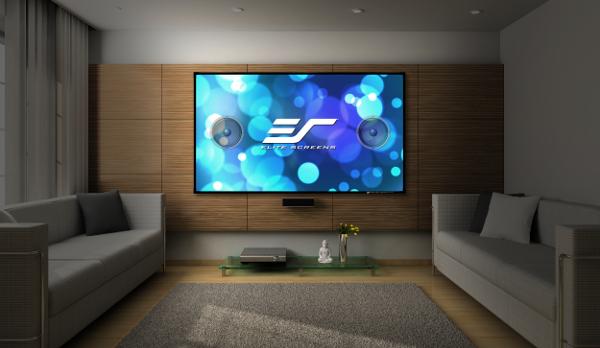 Elite Screens has introduced an acoustically transparent, fixed-frame 4K screen featuring an edge-free design that creates the impression of a giant flat-panel TV.
Designed for installation in front of in-wall speakers, the Aeon AcousticPro UHD (AUHD) screen is made of material that lets sound pass through with minimal attenuation, while creating a surface flat enough for projected 4K/ Ultra HD images, according to Elite. Mean attenuation is spec'd at –2.36 dB, which is achieved "without compromising picture quality."
The self-supporting screen has a 16:9 aspect ratio and is available in 100-, 120-, 135-, and 150-inch (diagonal) sizes at prices ranging from $500 to $1,099. It features moiré-free 1.0 gain screen material with a dense synthetic weave designed to mitigate light penetration for a brighter picture, even with high-dynamic-range (HDR) 4K projection. The screen also boasts a 180° viewing angle with equal brightness on or off axis, according to Elite.
Elite creates an all-screen frame-less look for the Aeon AUHD by wrapping the screen material around an internal frame but provides a thin black trim strip for those who prefer a border. Assembly involves aligning floating wall brackets with wall studs; the brackets slide so the frame can be centered.
Options include an LED back-lighting kit with remote control and a splice bracket kit for connecting multiple frames to create a giant screen.
Thanks to its split frame design, the Aeon AcousticPro UHD fits in a compact package for economical shipping. The screen is covered by a 2-year warranty.
For more information, visit elitescreens.com.