Eagle Eye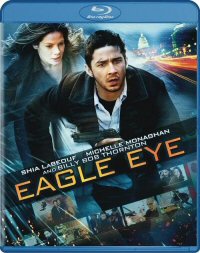 A copy-shop clerk (Shia LaBeouf) and a single mom (Michelle Monaghan) meet after receiving phone calls from an anonymous woman instructing them to do exactly as she says, or else. Using cell phones, LED signs, television screens, and other commonplace technology to pass on instructions, the mystery woman ensnares the unwitting pair in a vast and unthinkable plot. Pursued by a determined FBI agent (Billy Bob Thornton) as the nation's most wanted fugitives, the two must work together to discover who's manipulating them and why.
Check your brain at the door and strap yourself in for one hell of a ride! The reality factor flies out the window toward the end of the first act, but the well-laid premise and non-stop action don't allow too much reflection about the absurd clairvoyance the mystery woman possesses. Regardless, I found it enjoyable and entertaining, albeit completely over the top.
The AVC encode is impressive with a flawless print, excellent black levels, and crisp detail. Color saturation is admirable with lifelike reproduction, and flesh tones retain their texture and natural color. Resolution in the backgrounds is solid and other than some occasional edge enhancement, there's nothing to complain about.
The Dolby TrueHD 5.1 soundtrack is just as impressive as the video encode. Dialog intelligibity is never an issue, and the engaging score by Brian Tyler draws you into the film. The surround channels are very active during the action sequences—of which there are many—and as expected, the LFE channel receives quite a workout as well.
The bonus features include a bevy of HD supplements that include deleted scenes, an alternate ending, a couple of making-of featurettes, a gag reel, and a theatrical trailer. The best feature, "Is My Cell Phone Spying on Me?," delves into the idea that our modern technological conveniences are eroding our privacy.
Believability is abandoned shortly into the film, but I really didn't care because I found the concept intriguing—yet a bit unsettling as a techno-geek. The Blu-ray presentation is just short of reference quality and definitely worth a rental. Be warned, though—you'll think twice about using your cell phone for a few days afterwards.
Release Date: December 28, 2008
Movie: 6/10
Picture: 9/10
Sound: 9/10

Review System
Source
Panasonic DMP-BD55 Blu-ray player

Display
JVC DLA-RS1 projector
Stewart FireHawk screen (76.5" wide, 16:9)
Electronics
Onkyo Pro PR-SC885 pre/pro
Anthem PVA-7 Amplifier
Belkin PF60 power conditioner
Speakers
M&K S-150s (L, C, R)
M&K SS-150s (LS, RS, SBL, SBR)
SVS PC-Ultra subwoofer
Cables
Monoprice HDMI cables (source to pre/pro)
Best Deal analog-audio cables
PureLink HDC Fiber Optic HDMI Cable System (15 meters) from pre/pro to projector

Acoustical treatments from GIK Acoustics
LATEST VIDEO