DVDs: Movies of Tony Scott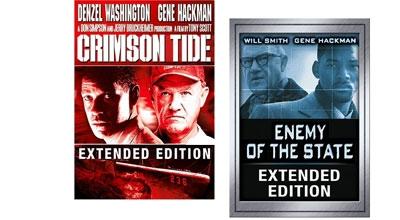 Crimson Tide Touchstone Unrated Extended Edition
---
Movie •••• Picture/Sound •••• Extras ••½
Enemy of the State Touchstone Unrated Extended Edition
---
Movie •••½ Picture/Sound •••• Extras •••
Neither of these films - arguably director Tony Scott's two best thrillers - gains much from the few extra minutes added here, just slightly longer dialogue scenes. However, these two-disc editions do deliver significantly improved picture and sound from that of their earlier releases. Both have enhanced detail and natural-looking color that only ratchet up the considerable tension.
Crimson Tide (1995), which stars Gene Hackman and Denzel Washington as the captain and executive officer of an American nuclear submarine that may be about to cause Armageddon, seems more claustrophobic than ever here. You can finally see more than a shadow when those Russian torpedoes speed through the dark water, and the crisp multichannel mix drives home the payload.
With its focus on high-tech National Security Agency surveillance, Enemy of the State (1998) seems positively prescient given today's headlines. Robert Clayton (Will Smith) is the hapless victim, helped out by rogue ex-agency operative Edward Lyle (Hackman again). Clayton's dizzying experience is nicely reflected by rapid-fire visuals and sonics.
Each DVD has a couple of uninteresting deleted scenes, a making-of featurette, and some raw behind-the-scenes footage. Enemy's documentary is the best, if only because real security experts are on hand to frighten us; it seems the film actually understates its case about the power of surveillance technology. Samples of the film's un-edited raw footage are also worth watching. Crimson Tide's "all-access" footage has the cast mugging for the camera, with few laughs to be found. Both: [R] English, Dolby Digital 5.1; letterboxed (2.35:1) and anamorphic widescreen; two dual-layer discs.
more of this month's reviews Back to Homepage What's New on S&V