DVDs: French Kisses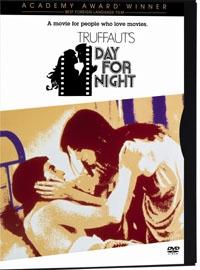 Are movies more important than life? Are women magic? These two questions, repeatedly posed in François Truffaut's Day for Night (1973), often seem to be at the heart of French cinema, especially in a big batch of recent DVD releases.
Day for Night (Warner; Movie




, DVD



) celebrates the process of making a movie. It's a series of tactile visual moments showing the mechanics of film production mixed in poetically with the dramas of death, madness, and drunken divas that are a part of any shoot. Images are bright, with solid colors and fair detail. Dialogue and Georges Delerue's uplifting score are crisp. Extras include interviews with the director and cast members, a smart appreciation by Truffaut biographer Annette Insdorf, and both new and vintage featurettes.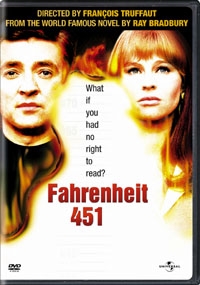 Fahrenheit 451 (Universal; Movie



, DVD



), Truffaut's 1966 adaptation of Ray Bradbury's futuristic novel, shows what happens to a society when it rejects art in favor of drugs and flat-screen TVs. Julie Christie plays two women who appeal to the contradictory sides of fireman Oskar Werner's personality: the conformist burner of books and the rebel reader who questions the totalitarian order of illiteracy. The DVD transfer has good contrast, with blocks of intense, flamelike reds, yellows, and oranges against the rich black uniforms. Bernard Herrmann's marvelously romantic score, rendered clearly in a robust mono, keeps things from getting too grim. Extras include a segmented commentary by Christie and crew, an interview with Bradbury, and featurettes.
Jean-Luc Godard's 1964 Band of Outsiders (Criterion Collection/Home Vision; Movie



, DVD




) takes on the appearance of a traditional crime movie, but its two misfit robbers spend most of their time romancing the radiant Anna Karina, talking like characters in a movie, and doing Hollywood-style dance numbers. The transfer, supervised by cinematographer Raoul Coutard, is clean and detailed, with rich blacks and bright whites. Frequent references to other films are explained in a glossary illustrated with clips, and other extras include behind-the-scenes footage, interviews (with the director, Karina, and Coutard), and a silent-comedy short by Agnès Varda starring Godard and the cast of Band.
Jean-Louis Trintignant and Anouk Aimée in A Man and a Woman
In
A Man and a Woman
(Warner; Movie




, DVD




), director Claude Lelouch uses every trick in the book, breaks every rule, and steals shamelessly from fashion photography to take a thrilling ride through the swinging '60s. Despite its lack of deep meaning, this 1966 classic shows that life can be beautiful, especially if - like stars Anouk Aimée and Jean-Louis Trintignant - you are beautiful, too. The clean transfer nicely handles the wide range of visual styles, from high-contrast black-and-white to foggy-gray monochrome with small blotches of rich color. Images have good detail with just the right amount of graininess. Extras include a vintage documentary and an interview with Lelouch.
La Chèvre (Kino; Movie



, DVD



) and Les Compéres (Kino; Movie



, DVD



) are two successful comedies directed by Francis Veber and starring Gérard Depardieu and Pierre Richard. La Chèvre (1982) has tough-guy Depardieu as straight man to Richard's holy fool, saving him from the bad guys and his own bad luck while the dim duo search for a kidnapped woman. The team has surprisingly good chemistry, enough that they reunited for Les Compéres (1983), in which each is told he is the father of a runaway boy - to trick both of them into tracking the boy down. The two films' pastel-colored images are slightly milky but still pretty.
Gérard Depardieu (front) and Pierre Richard in Les Compéres
In César & Rosalie (Wellspring; Movie



, DVD



), Claude Sautet's 1972 ménage-à-trois, the characters are more selfish than those in Truffaut's Jules and Jim, but they're lovable anyway. Yves Montand plays César, a self-made man who so adores his beautiful and free-spirited young wife (Romy Schneider) that he is willing to share her with an artist she cares for - that is, after violence doesn't work. Despite being arrogant and boorish, Montand's César is so full of life and love that he remains a sympathetic character. The transfer has fair detail and warm colors. The 5.1-channel remix is much fuller across the front channels than the stereo original, especially with Philip Sarde's music. Three trailers of French films are included.
Barocco (Pathfinder; Movie



, DVD


) is an absurdist political thriller from 1976 in which we never learn the politics and there is no attempt to thrill. A boxer, played by young Gérard Depardieu, knows too much and is shot dead by a hired killer, also played by Depardieu - although the dead man's girlfriend, Isabelle Adjani, never notices any similarity between the two. None of this adds up, but director André Téchiné has a lot of fun reworking some of the themes and scenes of Alfred Hitchcock from the perspective of someone on mescaline. The nonanamorphic widescreen transfer is sometimes colorful and sometimes rather gray and smudgy, particularly in night scenes. Extras include a wind-blown commentary by two self-important critics, a statement by the director, and a gallery of stills.
Alias Betty (Wellspring; Movie



, DVD



) is a nicely restrained story about a writer (Sandrine Kiberlain) whose adored son dies, prompting her own crazy mother to steal her a replacement. Through depicting an alternative to accepted wisdom - Betty, in keeping the stolen child, provides him with a much happier environment than his uncaring real parent - director Claude Miller is able to quietly take apart the whole concept of motherhood. The transfer is bright and clear. Colors are naturalistic, with skin tones astonishingly real. Sound is also crisp, but it stays mainly in the front speakers. Extras include 15 minutes of behind-the-scenes footage and nine trailers to foreign movies.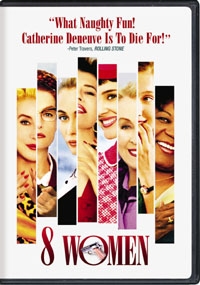 With 8 Women (Universal; Movie




, DVD



), director François Ozon has gathered together several generations of France's most famous goddesses, great actresses, and gamines to commit a wonderfully camp musical-whodunit. The cast comes through with some magnificent scenery chewing and self-caricaturing (Isabelle Huppert is priceless as the neurotically uptight spinster aunt spinning out of control), and there's a cat fight in which grande dames Catherine Deneuve and Fanny Ardant roll on the floor together until their clawing turns into passionate lovemaking - not to be missed. The bright and crisp transfer has great contrast. The unbelievably rich colors are extremely vibrant without ever bleeding. Sound is full, but there's not much separation or movement.