DVD REVIEWS: The Interpreter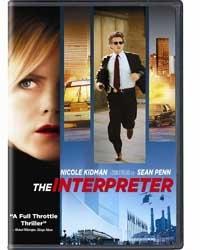 Universal
---
Movie ••• Picture/Sound ••• Extras •••
This contemplative thriller from director
Sydney Pollack
never completely takes off, but it sure looks good trying.
Nicole Kidman
and
Sean Penn
come off more as movie stars than a UN interpreter and an FBI agent, respectively, but they keep their performances refreshingly low-key while sorting out a potential death threat to a visiting dignitary. The picture's rich detail and realistic color bring all the weight and mystery of the UN's hallowed halls to life. The 5.1-channel soundtrack is predictably hushed, but it rises to the occasion for the movie's few action sequences. Extras include a detail-oriented director's commentary, a lame alternate ending, and the usual making-of documentaries and deleted scenes. More interesting: a featurette on real-life UN interpreters and another in which Pollack makes an impassioned plea for widescreen DVDs.
[PG-13] English, French, and Spanish, Dolby Digital 5.1; letterboxed (2.35:1) and anamorphic widescreen; dual layer.
LATEST VIDEO
WHERE TECHNOLOGY BECOMES ENTERTAINMENT