DVD REVIEWS: Coach Carter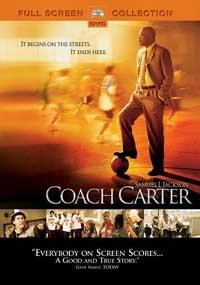 Paramount
---
Movie •••½ Picture/Sound •••½ Extras ••••
The true story of California high-school basketball coach Ken Carter, who famously locked his overachieving team out of the gym when they underachieved academically, gets the full Hollywood treatment in this sturdy if long-winded movie. Wearing his principles proudly on his sleeve,
Samuel L. Jackson
was born to play the title role, but the rest of the cast shines just as bright thanks to a script that refuses to stereotype those tough, underprivileged kids. Picture and sound are both finely tuned, bringing real grit and excitement to the in-your-face game sequences. Extras include a featurette on the real Ken Carter, a short documentary about how his games were recreated for the film, Twista's "Hope" music video featuring Faith Evans, and 10 minutes of highly entertaining deleted scenes.
[PG-13] English, Dolby Digital 5.1 and Dolby Surround; French, Dolby Digital 5.1; letterboxed (2.35:1) and anamorphic widescreen; dual layer.
WHERE TECHNOLOGY BECOMES ENTERTAINMENT