DVD REVIEW: V For Vendetta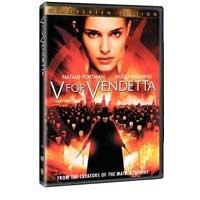 Warner
---
Movie •••½ Picture/Sound •••• Extras •••½
After the release of
From Hell
(2001) and
The League of Extraordinary Gentlemen
(2003), fans of graphic-novelist Alan Moore must have given up any hope of his masterworks getting the cinematic treatment they deserve. Alas,
V for Vendetta
falls short of the dense, sophisticated, and daring print original. But the good news is that it succeeds remarkably well on its own terms.
In fact, as a futuristic political thriller, the film is wildly entertaining. Its morally ambiguous tale of terrorists, dictators, and overreaching governments can't help but resonate in today's complicated world. Andy and Larry Wachowski, creators of the Matrix film series, produced V for Vendetta and wrote its script while handing over the reins to their old assistant director, James McTeigue. Between them, they rediscovered the same inspired creativity of the original Matrix, especially as manifested in the explosive visuals.
The two-disc set's clear, sharp transfer also lives up to those standards. Colors are vivid yet realistic, and shadow detail remains strong throughout the many dimly lit, late-night street scenes. The effects sequences, in which we see the landmarks of London meet their unfortunate fates, are spectacular in every sense of the word. And the burnished, art-filled rooms of V's private sanctuary, painstakingly created by Matrix master production designer Owen Paterson, convey all the mystery of the antihero's peculiar existence.
The Dolby Digital 5.1-channel soundtrack packs a wallop in the action scenes, but it's equally effective with faint, menacing footsteps in the surrounds. Even the popular songs that play on V's jukebox blend perfectly with the overall aesthetic of the film's meticulous sound design.
Extras are thinner than you might expect from a release of this stature. Disc 1 (also available as a single-DVD edition) has a well-made but modest 15-minute production featurette. Disc 2 includes a Cat Power music video and an Easter egg of a Saturday Night Live skit. It also has three more featurettes, and although they amount to just 40 minutes, their subjects are exceedingly well chosen: the difficult task of creating a visual design for a film that takes place in the not-too-distant future, a look back at the 17th-century political intrigue that underlies the movie, and a historical survey of the graphic-novel medium, complete with appropriate homage to Moore. All short, but very sweet. [R] English and French, Dolby Digital 5.1; letterboxed (2.35:1) and anamorphic widescreen; one dual-layer and one single-layer disc.
more of this month's reviews Back to Homepage What's New on S&V