DVD Review: The Threepenny Opera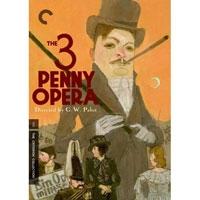 The Criterion Collection
---
Movie •••½ Picture •••• Sound ••• Extras •••
The 1931 film version of one of the most successful theater productions of the 20th century may disappoint many who love Kurt Weill's stage music. That's because about half of it is missing. Still, this two-disc set should fascinate anyone interested in the early golden age of German cinema, or in the process by which Bertolt Brecht reimagined his theater work for the screen and the trouble this caused, which is dealt with extensively in the extras.
The transfer, from a recent film restoration, makes every grimy detail visible for the first time in decades, and the massive scale of the production - London's Soho seems to have been entirely rebuilt in the studio - is made startlingly clear. Sound is also impressive for an early talkie, with minimal distortion (note the spooky cymbal effect at the end of "Pirate Jenny").
Disc 2 contains the French-language version shot simultaneously by director G.W. Pabst with the same script and settings but a different cast. It's interesting to watch the tighter, lighter approach, yet it can't supplant the original. Also, its picture is grainier and dimmer than that of the German version, and the sound less clear.
The scholarly commentary is very strong on analysis, though I wish it had been better on background. A new 48-minute documentary on the creation of the play and the film essentially illustrates the excellent program notes in the DVD's booklet, and a vintage interview with actor Franz Rasp offers some amusing insights into the early German film industry. [NR] German, Dolby Digital mono; full frame (1.33:1); two dual-layer discs.
more Entertainment reviews Back to Homepage What's New on S&V
LATEST VIDEO