DVD Review: The Shield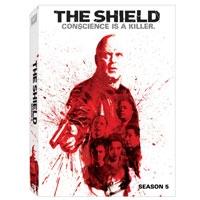 20th Century Fox
---
Series ••••• Picture •••• Sound •••• Extras ••••½
For five seasons now, FX's
The Shield
has picked up the storytelling gauntlet that
The Sopranos
threw down, continually ratcheting up the quality of cable-TV drama (well, all TV drama, really) to new levels. And in Season 5, tension and action come at a fever pitch, with nary a false note in sight (or earshot) as the storyline throttles forward on a collision course toward the series-defining/series-changing climax. In fact, I'd say that unlike the aforementioned Sopranos and other top-drawer dramas like
24
,
Lost
, and
Oz
,
The Shield
has yet to falter or show a chink in its armor. (
The Wire
is probably its only rival in the perfect-play TV series department.)
Following on the heels of an excellent star turn from Glenn Close in Season 4, recently crowned Best Actor Oscar-winner Forest Whitaker jumps feetfirst into Season 5 as Lieutenant Jon Kavanaugh, an increasingly unraveling Internal Affairs detective. Over the course of 11 episodes, Whitaker meets madness via method, shedding at least 40 pounds (!) to show how antihero icon Vic Mackey (Best Actor in a Drama Emmy-winner Michael Chiklis) and the Strike Team get to him both mentally and physically as he seeks to drive them apart and bring them to justice.
Shot full-frame (1:33:1) on Super 16 film, The Shield revels in its perpetual grittiness, with night scenes basking in grain and shadow, and day scenes, whether performed inside or out, rife with bursts of natural light. Whenever the handheld cameras go on the run to trail the superfast-paced action, the picture stays nicely solid on my plasma screen. And the dust that rises ominously after the climactic event in Episode 11 (which I won't spoil here) is such a bittersweet payoff.
Sonically speaking, the street-savvy dialogue stays front and center, as it should. The surround channels are used for background details like the distant barking of dogs during a postcoital discussion in Episode 3, crowd noise at a crime scene in Episode 7, prison clatter in Episode 9, and hovering helicopters in Episode 10.
All 11 episodes carry commentaries, a feat (and a treat!) that hearkens back to the all-inclusiveness of the Season 1 box set. Cast and crew camaraderie is well evident throughout, a good indicator of how harmonious the show still is both onscreen and off. Chiklis, who sits for three of them (including the episode that he directed, "Rap Payback"), is a fascinating speaker with an eye for detail and analysis, perhaps due in part to his other hands-on role as a Shield producer. Series creator Shawn Ryan is also a commentary all-star, as he knows how to lead sessions and is also a master of sound-bitey comments on 25 deleted scenes (all of which are copiloted by perfect foil and longtime Ryan crony Jay Karnes, who plays Detective Holland "Dutch" Wagenbach). You gotta love it when, during the commentary for Episode 8, Ryan creates the phrase "Sudoku-ing it" to describe how the writers shoehorn stray plot points together cohesively.