DVD REVIEW: Separate Lies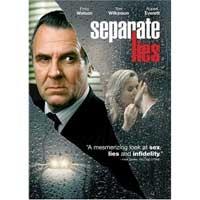 20th Century Fox
---
Movie ••• Picture/Sound •••• Extras •••
The initial setup may suggest a classic British whodunit in the Agatha Christie vein, but this directorial debut from screenwriter Julian Fellowes (
Gosford Park
) becomes a slow-moving character study focused on marital infidelity. Emily Watson, Tom Wilkinson, and Rupert Everett embody their characters with grace and lend the film its significant weight, but they can't quite rescue it from the doldrums of domestic melodrama. Set in an idyllic English countryside,
Separate Lies
looks gorgeous on DVD. The richly detailed images - all lush greenery and tasteful mini-mansions - provide stark contrast with the general misery of the well-heeled gentry. The sound mix is limited mainly to the artfully delivered dialogue. Fellowes offers an energetic and enthusiastic commentary, which only made me wish I loved the movie as much as he obviously does.
[R] English, Dolby Digital 5.1; French and Spanish, Dolby Surround; pan-and-scan, letterboxed (1.85:1), and anamorphic widescreen; dual layer.
WHERE TECHNOLOGY BECOMES ENTERTAINMENT